Every place has its problems, its pluses and minuses. Reasons why people choose it over others.
I'd never heard of Etsy til I went looking for something for my wedding way back in 2007 and a friend who sold on their pointed me in their direction (and she never sells there anymore I might add).
Then all of a sudden it sprung up overnight all across the wedding blog sphere.
Only there's a little hidden secret that Etsy doesn't want any of you buyers to know.
Etsy couldn't give a flying shit about any of you.
It doesn't want you to be able to find things that you want or need. Instead it forces its daily rotation of cowls, owls, fake mustaches and terrariums down the throat of every person who dares to wander in and click on one of the thousands of Etsy admin picked gift guides.
And now as everyone starts to hunker down for Christmas Etsy has just given the biggest Fuck You to sellers and buyers alike.
Head over to Etsy today and you'll see a giant orange button that leads to the admin picked gift guides full of the same stuff that's gotten free advertising the entire year to fit the Etsy ideal. Their guides are full of nothing but the same shops over and over and I can't tell you the number of re-sellers (aka people who just buy wholesale and claim it's handmade) that have been found out thanks to the Etsy admin picked gift guides.
But the buttons aren't just relegated to the main page, no they show up everywhere. Including the main banner of a shops header:

So assuming a customer is even able to navigate the nasty and horribly useless Etsy search and stumbles into your store, they suddenly see this bright orange "Gift Guide" button up top and naturally assume it's a gift guide for your shop.
Except it's not. It's just Etsy advertising for their handpicked shops on YOUR shop.
And it isn't even on just shop pages. Nope every single listing also leads right back to the Etsy Gift Guide: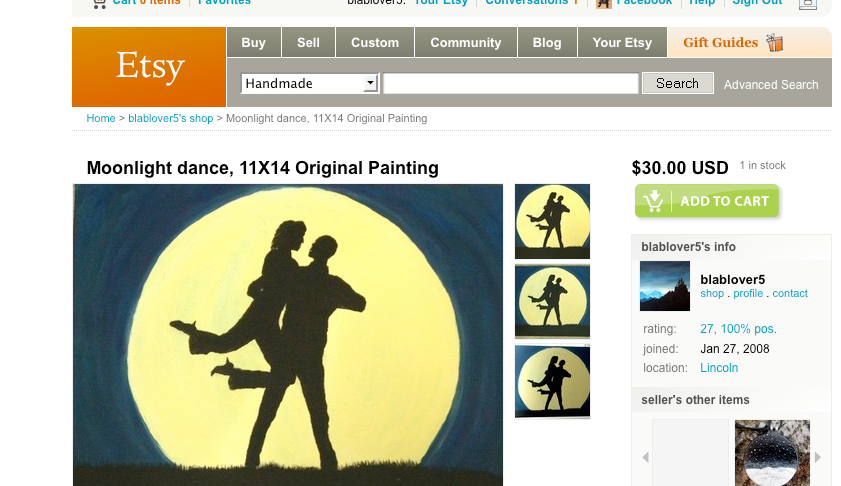 It isn't just a giant Fuck You to sellers, it's also to buyers. Buyers who don't want the Etsy approved ideal.
Etsy was sold to me as the place to buy anything handmade, but that isn't true anymore. It's the place to only buy Etsy admin approved items that they can't even bother to check and see if they're sweat shop produced or not.
I know Etsy became the buzz word for handmade across the wedding blogs but please I beseech you for Christmas, for anyone still doing the wedding thing, look elsewhere.
There's
1000 markets
that's just started up. Or
Artfire
, where I also have a shop.
The fact is that Etsy has been screwing over sellers for so long a lot of the really talented non cowl makers jumped ship long ago and now have set up shop elsewhere. So a search of
Artfire
yields much better and quicker results than a comb through the crap at Etsy ever would.
Sadly, because buyers aren't aware of the other and better options out there the attention is still on Etsy and the fewer and fewer views are there but maybe if we spread the word a bit
Artfire
will become the next big thing.
Please just take a look, see what you think of it and spread the word if you can. People need to know they have other options for Christmas this year than just terrariums and fingerless gloves.