For me the best part of cooking is when it's time to add the spices. I love the slow addition of one staple and then the balance of another to bring out interesting flavor crossovers.
And about the best place to find fresh and flavorful spices I've found has been
Penzeys
, our one stop shop for everything Indian.
If getting fresh and wonderful spices that add flavor to a dish isn't enough for you every time they send out a catalog to show off their newest mixes contained within just about every page is a cool new recipe.
As soon as I got their latest Christmas issue I sat down while the puppy masticated on her ball and flipped through where I found a desert I had to try that night.
It's called a Cranberry Duff. I have no idea what a duff is expect apparently it's popular in England and Scotland but oh did the picture look tasty.
Start by sifting together in a big bowel 2 cups of flour, 1 cup sugar, 1/2 tsp salt, 2 tsp baking powder and 1 tsp cinnamon.
To that add the wet ingredients of 2 cups whole raw cranberries, 1 cup milk, 1/4 cup melted butter and 1 tsp Vanilla extract.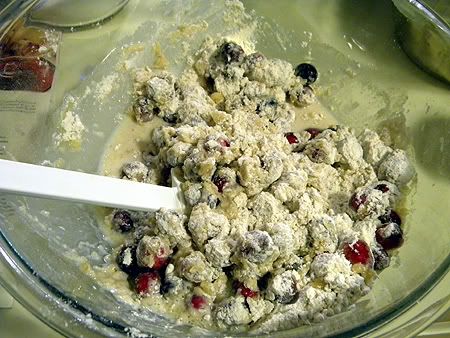 Mix all that up and then pour into an 8 inch square dish where it'll go into the 350 degree oven for 40 minutes.
About 25 minutes into the cooking time you'll want to make the butter sauce (the most delectable and
diabolical
part of the whole thing).
In a sauce pan combine 1/2 cup of butter, 1 cup sugar and 3/4 cup of cream and bring that to a boil. Lower the heat and add 1 tsp vanilla and 1/2 tsp cinnamon then let that simmer for 10 minutes.
Just pull your duff out of the oven and let it cool for a bit.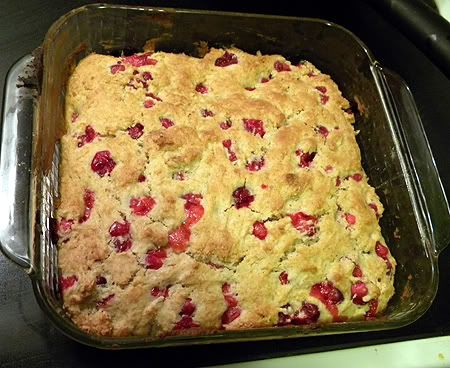 Then drench it in the creamy butter sauce and serve.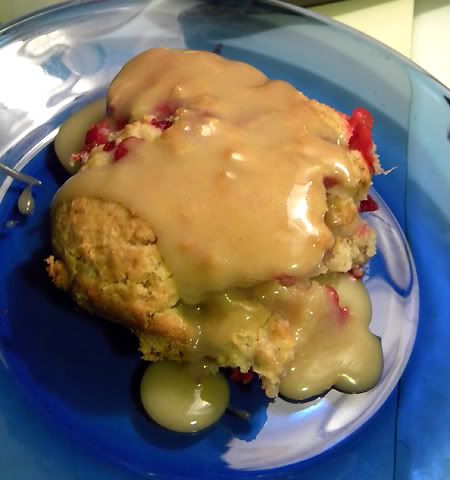 Oh man is it tasty and super sweet with just a nice balance of tart thanks to the cranberries.
And best of all it's a great way to get rid of any extra whole cranberries you might have hanging around after Thanksgiving and only messes up one bowel and one pan.