As the wedding draws ever near many brides begin to worry about the head count. More specifically they worry about how they are going to pry the RSVP cards they stamped and addressed out of their relatives cold clammy hands.
They are not alone.
We're waiting on about 81 people. So far only 50 people have confirmed (it's kinda spooky as its exactly 50 and exactly 50 have said no so far).
That 81 can be a major tipping of either we'll have a very empty church or we'll have to rethink the table layout at the reception as well as have to get way more bags of candy.
And I can't place any blame on my guy at all as it's all my family (farmers, nuff said). A part of me really is beginning to suspect that they think they are supposed to turn in the card when they show up for the wedding (almost like they need some paperwork for entrance or to prove they are who they say they are), or perhaps they think that the cards are just the right size for holding a piece of gum or acting as a coaster.
Regardless, I am coming to the stress breaking point where I shall have to phone, e-mail, or carrier pidgeon them to find out if they are really coming or are just gonna hide in their home and hope the wedding goes away.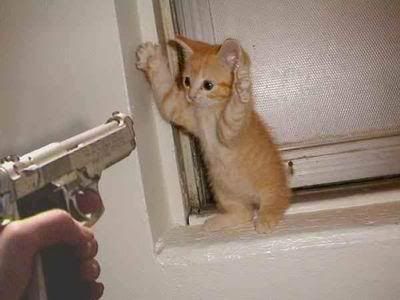 RSVP or the cat gets it!
A lot of women tend to add stress on top of stress (never a good idea as stress doesn't balance well) and fret over how to form a very nice and kind way of asking people "Are you Fucking coming or not?"
Well I am not so tactful and instead came up with this idea of a simple plea:
"Dear related pain in the ass,
You rememeber that little pile of papers you got from us a month ago? It wasn't just a way of testing out the mail service, we're honestly going to be getting married.
Okay, so maybe you haven't gotten married in the last half century but things are a bit different now. We're spending tons of money for this thing. Money that could be better spent. We've been pulling our hair out deciding who to invite and you made the cut. (See that's why you got that thing with the stamp on it.) The least you could do is tell us if you'll grace us with your presence so we don't waste money on food and various other stuff.
Just fill out that cute little card that pleads with you to send it in with your name, check either yes or no, and drop it in the mailbox.
If we do not hear from you soon, a monkey will do unspeakable things to your birdbath.
Thank you,
The very angry Bride and scared Groom."