Last week I got an
etsy
request to do not one but two paintings of couples
nuptials
as a wedding present.
The couple had a more simple white wedding on the beach to honor the wives family: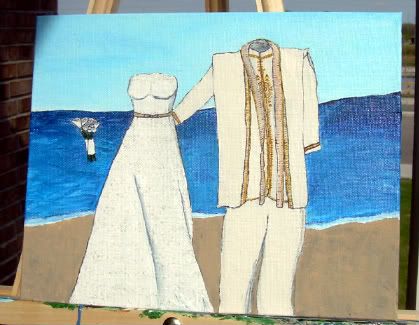 I can
definitely
do a beach wedding. This was probably the first time the grooms clothes were way more complicated than the brides but still nothing outside the box.
Then it came time for the second painting. To honor the groom's side they had an Indian reception. I easily spent 3 hours just doing all the detail on the bride's outfit.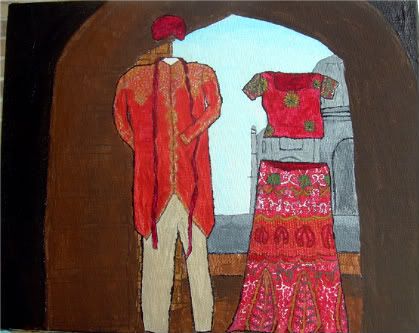 I love how warm all the colors came out. I wasn't sure about the background at first (I picked it being told to find something Indian) but it really adds to the atmosphere of the rich and crimson clothing.
I adore how the groom's turned out as well. This was a major test of my "beading" skills and I think I got a really good feel and facsimile.
So now I can try my hand at some Indian clothes, paint a bit of architecture, and continue to make okay beaches (it's funny how my first has been by far the best). And this makes a great wedding present too. Who knew?