Let's see. I've been married according to my calculations, carry the two, add a few extra days for the ground hog, six months and some odd weeks.
Yet today I, for the first time, got this in the mail: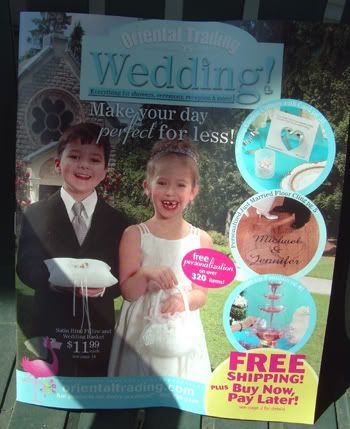 Yes we did order a few things from the
ol
' OT, though they were wedding related to us not so much from the wedding section (just a skeleton and some tea lights). Even before ordering I had signed up to receive their wedding catalog thinking I may find something I could use or at least get a good
ol
' rubbernecking
jones
looking at all the crepe and cardboard stuff they try to pass off as a "Best Seller."
But alas, we had to scrape by on what we could find at other cheap party stores as there never was an Oriental Trading catalogue waiting for me in the mail.
That was til yesterday when I learned I too could own my own dozen gross of bride and groom shaped shot glasses for just $20.
I don't know what to do with all this wedding stuff I still get. It's calmed down somewhat thankfully. For a while I was still getting the Bridal Guide magazine free and had no idea what to do with basically a magazine full of dress ads. I don't personally know anyone still planning their weddings, and if I did they were already gifts over two metric tons of wedding magazines.
It is an interesting conundrum, you're a bride-to-be for such a short amount of time compared to a lifetime, but there's so much more out there for that year to two years you wear the white veiled
baseball
cap (also something you can buy at OT). By far it's much more easier to fall into the role of a bride than to be a gardener or an interior decorator or 5 star chef. The trick is digging yourself back out.
Do you still get wedding paraphernalia even if it's been a while since the actual date? Or even if you are still about to get married but have everything planned what do you do with all your planning materials? Find them a good second hand home or just recycle and forget about it?
As for me I think I'll just enjoy the picture of the shimmer doorway fringe to make your wedding feel more like prom and then say bye bye Mr. Oriental Trading.