Hurray! Graduation time has come and passed!
No more school!
WOOOHOOO
!

Now to get back to work with barely anything changing at all.

It is a bit strange at times working at a university that is basically a typical business having the same amount of time off as a bank (well okay maybe not as much as a bank) or any other office but still we all get super excited and happy when all the students are gone freeing up the parking lots and just letting the place breathe a bit.
We attended a double graduation party this weekend where I got to give away my paintings as oh let's call it a present (really it was just the first time I'd seen either of them since I'd finished):
As the night started to creep in it became clear that it was time to start up the
ol
' fire pit:
Just so we can make a
S'More
!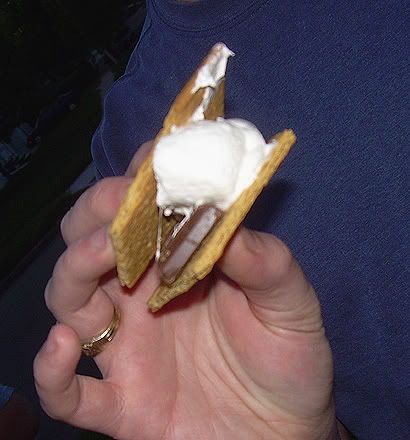 There's just something magical about a couple of graham crackers, a bit of
hersheys
and a flaming marshmallow. They fit together to create the perfect summer night food and are an instant pick me up.
I also got to work on my fire picture taking skills. They are considerably lacking as I seem to sway back and forth like a kite stuck on the high wire, and I probably stuck my head in a bit to close as I smelled like I'd been hanging around too many pilgrims in a witch accusing mood.
It's also incredibly hard trying to steady yourself enough to take a good picture while holding a flaming piece of sugar on a stick in the other hand. I'm way too impatient to and promptly set every marshmallow on fire (marshmallow's are not good models at all):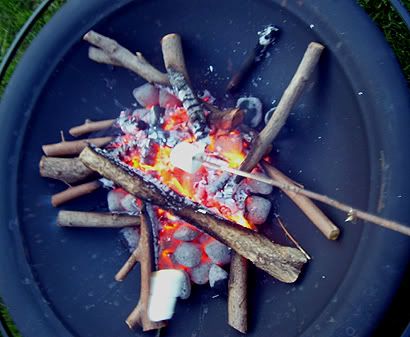 Are there any other graduates out there? Anyone else just happy to have school out or almost out?
Who else is suddenly craving a S'More right now? Maybe I need to crumple up some old journals into a metal trash can, cut down a few sticks and get my own campfire going. Best way to celebrate graduation ever.