When one is visiting the home of a very sophisticated individual you must always be prepared.
Brush up on your small talk, perusing the newspapers beforehand to see if their is any latest news your visits to the country kept you from. Grooming is a necessity so have your valet press and steam your outfits while you are riding around in the handsom so you shall appear your best at the door. A flower in the buttonhole is reccomended as well, try snagging on as your carriage rattles past a garden before anyone's the wiser.
Finally the most important piece of advice for any caller, make sure to sneak piles and piles of cat nip into your pockets. You're host can only demand the best of course:
I stopped by a friend's last night with my husband in tow to watch Tropic Thunder and enjoy a meal. Dinner & a Movie used to be a big tradition when we were living in Ames as students. Since we both moved to Lincoln and started real jobs it's fallen a bit more by the wayside but it's still fun to get together when we remember.

This time it was my job to bring dessert. I lucked out a bit as the week before I had a crazy craving for cobbler and stumbled across something incredibly easy to make that tastes so good my husband gobbled it all up before I could turn around.

I call it my cherry crumble cobbler crisp mix thing (they're still working on the name down in R&D):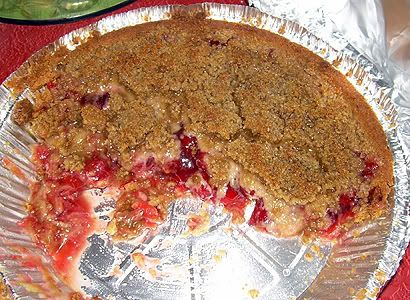 All you need is some flour, some butter, some brown sugar and a couple cans of cherries.

Take a pie pan, a bigger one warrants two cans of cherries while a smaller one just one. Add the cherries and drizzle some white sugar over the top.

In a separate bowl mix together 1/2 a cup of flour, 1/2 a cup of brown sugar, a few teaspoons of salt, 1 TB cinnamon and we always add fresh nutmeg.

Cut in 1/4 a cup of butter slowly mashing it up to make the little crumble ball things (R&D again). Then just dump those on top of the cherries and bake at 375 for 30-40 minutes. Just add some whipped topping and you have a fancy dessert even a kitty could love.

What's your go to dessert when you don't have much time to slave away in the kitchen or want the stove on long?
Does anyone have a good cobbler recipe? The crumb thing is good and all but it isn't really cobbler and sometimes you just got to have cobbler.