One of the good things about being friends with someone just getting into a new hobby means you're gonna get tons of free samples of their work. C
onversely,
the downside is that you're going to be bombarded by all of their work.
I've already hit up both the parents with paintings and now I'm branching out to my friends and coworkers.
I'm currently in the middle of a very large Canadian lake painting for my best friend and I just got asked to take on an impressionist field of flowers for a coworker.
But my most recent finished work is a little pink something for a friend of mine who loves pink and black (I am not a pink fan, black gets allowed though) and thinking of that lead to this painting.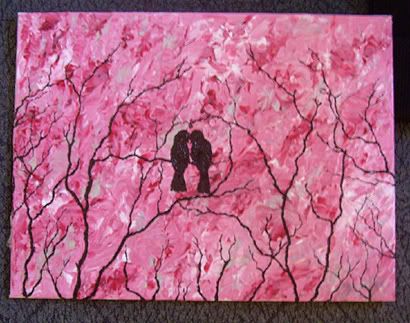 I planned the branches to create a sort of heart around the two love birds and have most of the branches leaning into the couple and though they're supporting them.
When I first started painting I promised my husband that I wouldn't turn into one of those annoying people that think they're really good at something but aren't and try to give all their failures away as presents.
Well the only excuse I can make is this isn't actually a present, it's just, um, something I'm giving away. So yeah.
Consider this a word of warning, if you do know my in real life (and even some of you in blog land) there is a very good chance one day you could find an orphaned painting on your doorstep. I just ask that you give it as much love as you would that strange knitted toilet paper
cozy
you got from your Aunt last Christmas.
Thank you.