Summer's here! (well maybe not on the calendar but when has that ever been with the times?)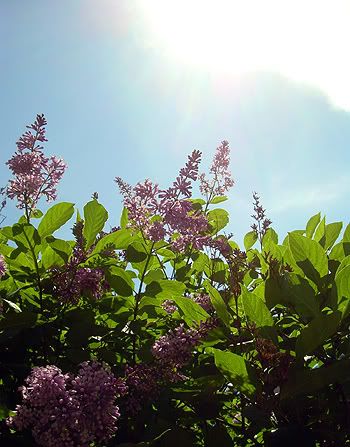 Time to break out the sandals, the sunscreen and head to the beach. Only there's one thing wrong with that (okay two really, but I could always dig myself a pond steal a sand box and call that a beach) I am not a big sunscreen person.
It takes a lot to get me to burn, in fact I don't think I've ever burned my arms or legs. It's more the areas that generally don't get any sun that are suddenly on display once summer comes around. So I'm generally really lax with the sunscreen (about a million times more than my German/Irish mother or my Polish/Czech husband) but I thought I should try to get myself into the habit of at least putting an SPF 15 on my face.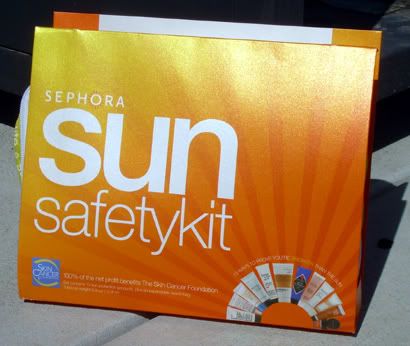 Enter
Sephora's
Sun Safety Kit. It contains 13 sample sizes of different facial sunscreens (really fancy stuff I'd never have tried on my own) so I can test run and see if I can find just that perfect one that stays on, doesn't cause me to break out and I don't feel like I've got paint on my face while wearing it. (It also came with a really weird yellow backpack that I have no idea what to do with. Why do kits always have to come with stupid and pointless bags? Is there a major lobby in the bag industry I don't know about?)
There's also a sun screen made just for guys (no idea what would make it any different. Maybe they filled it with ox musk and it's as thick as
spackle
for all their sweaty
shenanigans
because we all know women never sweat) that I handed over to my husband who really needs it much more than I.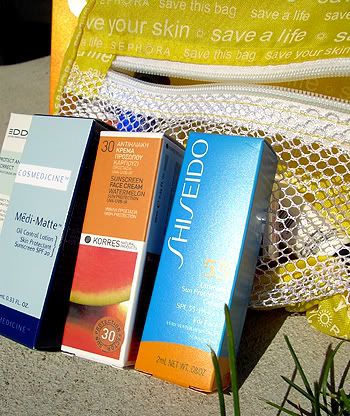 I'm currently trying out the middle one with the watermelon on the box. It really does smell like that summer melon treat which is a nice change up from the typical chemical scented drugstore options.
Each bottle is so small that they fit easily in a pocket so it's a lot easier to remember to take it with me and use it. There are also a few options for the eye area and one or two that are supposed to help clear up problem areas as well.
I'm thinking I should make a little consumer chart as I try each one and give a final verdict on the best options. What do you think? Would anyone else be interested?
Is anyone else not so good at the new mantra of SPF every day in beauty land? Have you tried to get it into a routine and if so how?
Now excuse me, I have to do a cannonball into my super awesome sized kiddie pool.
Summer rules!