Awhile back I made some wild and crazy claim that I was going to try my hand at painting more flowers. Then I got a bit distracted and painted two wedding dresses instead (I was working under the assumption that if you watch them long enough they turn into flowers. I was mistaken).
But this weekend I tried my hand at some tulips. Sorry the picture isn't all that great. I've quickly realized the only good way to take a good painting picture is in broad daylight and we haven't seen that stuff in going on three days now.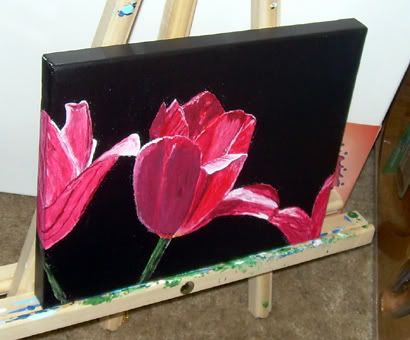 Flowers are not only expensive and pretty, they're also a giant pain in the butt to paint. I think I should start painting stems instead.
I'm also being all featured and stuff over at
My Island Wedding
offering up my own wedding advice (which is funny as I didn't have an island wedding nor do I have any advice whatsoever).
You may remember Kelly, as I painted the super cool dog for her (and some other wedding stuff I guess):
I've got another floral type painting in the wings, so all you floral junkies should get your fix soon.