I've watched as others across the blog-o-sphere dive head first into their businesses and
endeavours
after the wedding. (I really should get a list up sometime of all the people who are using their talents to make some money once the wedding is over. Nice way to show that no, we don't all wallow in self despair once the rice is tossed).
And while they're out in the deep end talking about insurance plans and lawyers, I'm standing back at the kiddie pool complaining about the possibility of sharks and wondering if I should head back to get a snow cone.
But over the weekend I
valiantly
took a tiny toe crawl forward. Relying on
photoshop
, some simple templates and swearing up a storm at Word (I think it knows I'm a mac user and passively likes to refuse to work) I finally created my very own business card: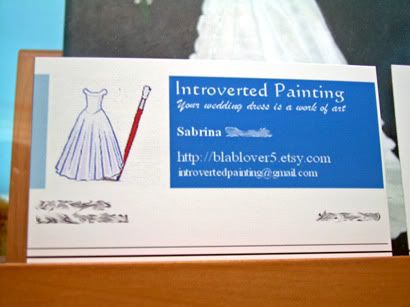 The swirly mess is actually words in real life (I walk that thin line that if anyone wanted to find out my full name and address they wouldn't have to work too hard but hope that I'm just too dull for anyone to care). I kept it pretty simple and nothing too exciting because well, there is that nice snow cone stand still back at the beach and sometimes you got to take a break from standing in ankle deep water, right?
I really love the back, but that's just because I still love all the graphics my friend came up with for me.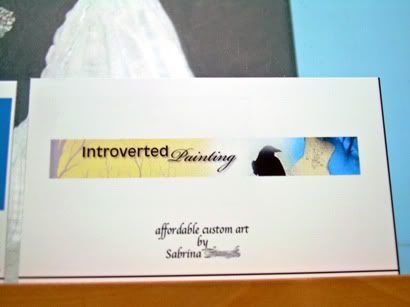 I'm still kicking around a few other ideas. I need to make a website/blog devoted to just the paintings so if someone wants to see my "portfolio" they have one place to go to instead of hunting and pecking through my blog.
And even though I've only had one sale, I should probably make non wedding business cards for anyone who wants to buy a painting of some water or a tree or the like. It's like Dr. Jekyll and Mr. Hyde-the grad student.
What do you think? Casual enough to reflect the fact that I run my business off of a card table covered in apples and pears but professional enough to be taken somewhat seriously so I could hope for a few referals?
I'm serious about the list too. I'm aware of some people getting into it, but if you've recently started an
endeavour
be it a
photog
business, decoration gig, or writing a book please leave a comment or drop kick me an e-mail. I'd love to highlight the work of friends and maybe help to garnish up some business.