Any and all attempts to decorate our place have been abandoned
indefinitely
. I got through about 40 or so of the pictures to be hung up and suddenly stopped caring.
Frames sit empty waiting for something interesting to grace their insides, while pictures and posters we actually did at least bother to get inside of frames sit forlornly on the floor hoping they'll be hung before they have to fight off puppy
Ginsu
teeth.
And while the malaise of just not caring what the hell the house looks like is going to waft through the air conditioner for a few more weeks, I did finally get on and finish one little project I had plans for back in June.
You may or may not remember, but I'll be nice and try to jog your memory. So lean over while I hit you in the back of the head with this pair of sneakers.
As a sort of "we don't know what to do with it so take our crap" kind of present my MIL gave us a set of coasters that you place your own photos in. There had been talk of using wedding pictures but that fell by the wayside, because just picking four would be impossible.
Then I made that painting over the fireplace and suddenly it all clicked. I should put art in the coasters. They won't come across as quite so cheesy and it gives me an excuse to paint more trees!
It was a bit of a challenge to come up with not only four different trees but also four different textures for the background.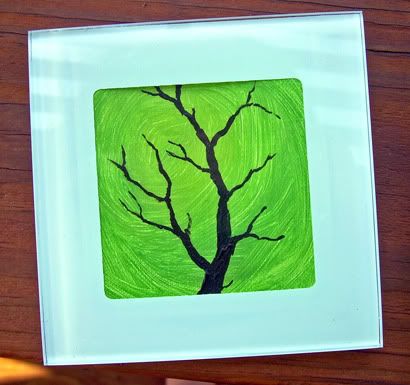 I think I like this green one the best. It has an eerie feel which I wasn't aiming for at all. The tree and the swirly green background sort of remind me of Nightmare Before Christmas.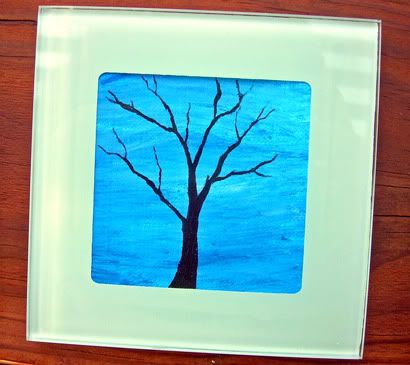 This was my first willow. There were a few starts and stops, but I think it turned out quite nice.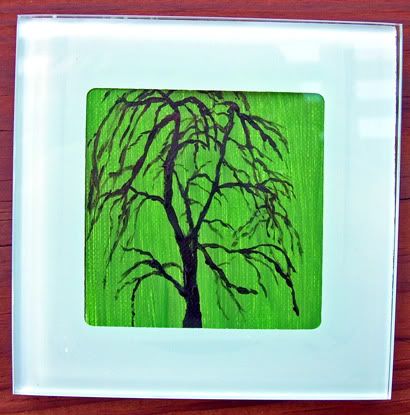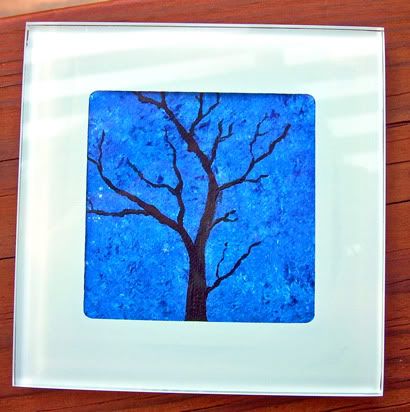 Now the trick will be to remember to actually use the coasters instead of just leaving them in a pile on the coffee table.
Whatcha
think?Any chance coaster art will take off? Maybe it'll be the next big wave sweeping across decorating channels like granite counter tops or painting one wall one dark color and leaving the rest white.
Now I'm off to keep staring at a bunch of frames that just refuse to nail themselves to the wall.