Over Memorial Weekend I did what every normal red blooded American would do (unlike all those green blooded Vulcan-Americans with their copper based blood), sat at the kitchen table for a few hours and painted a wedding dress.
This was an interesting challenge for my detective skills. It was a birthday present so I couldn't just e-mail the bride and ask her what the heck the bottom of her dress looked like or if she could point me in the direction of the dress
manufactures
website.
So I poured and hunted through some pictures on the photographers blog and pieced together in my mind what the dress would look like (there was a very long debate about just how much of a mermaid it was in my head let me tell you).
The background is actually a navy blue/black combo but it wasn't til I covered it in the protective gloss that the colors popped (another reason I really like that one, it makes black sparkle).
And just why is another wedding dress being called Feel Good Friday. Because today the friend who hired me posted about the birthday girl's response on her blog. You can read all the lovely things she said about
the dress here
but I think the smile on her friend's face speaks volumes for me.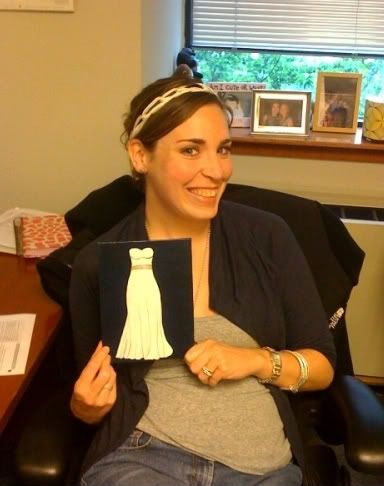 This is actually why I started getting into wedding dress paintings in the first place (and also why I'm so damn cheap). Getting to see the joy on the person's face is worth a lot more than an extra $20 I could charge to my heart.
Especially after I've spent hours looking at wedding photos and flipping through their albums to get a good idea of the dress. I almost feel like I've invested myself a bit into the wedding as well and hope that I can bring happiness to each customer.
So I'm just grinning ear to ear today because I made some people happy. Yes I really am that weird.