Any regular readers can just skip over this post. My paintings were mentioned on Wedding Bee and now everyone seems to think I just paint creepy headless people so I'm trying to rectify that a touch.
I thought I'd give you all a little tour of my wedding painting gallery. You may recognize the first one I ever did for someone. It's of Mrs. Avocado's dress (which she also featured on her new blog
That Wife
)
I've done dresses with a bit more complicated skirts as well such as Rachel's from
Girl Learning Along the Way
:
I have done simple dresses with deep backgrounds to emphasize the dress:
As well as something with color to match the wedding color choices: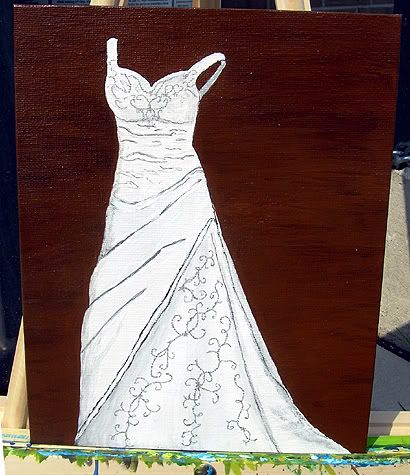 And if you like the headless people look I have done quite a few of those, including very intricate details: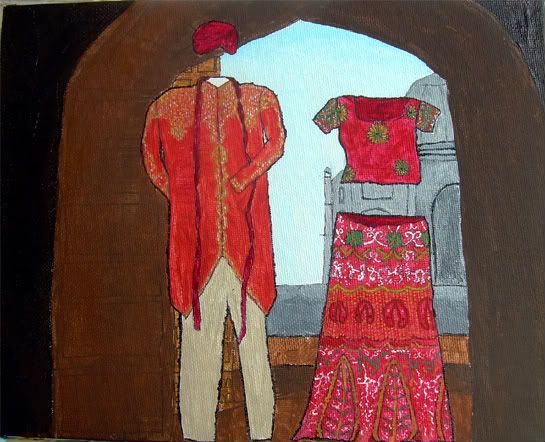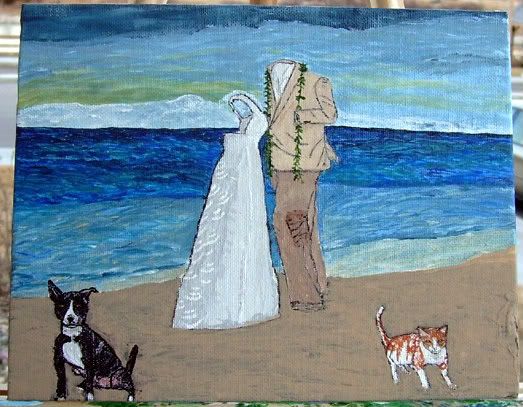 I am very open to any ideas and love to try something new and different. My painting's start at $15 for a 6X8 which is the size I did for Mrs.
Avocado
and I welcome any input from the
commissioner
.
I've also done a few paintings as wedding presents (the
Indian
wedding was one) and I can piece together various images of the bride in her dress to create a full painting of the clothing.
If you're interested or have any questions feel free to leave a comment here, e-mail me, or
convo
me at
etsy
. I started doing this after I painted my own wedding dress and thought others may enjoy one of their very own. Here's a slide show that showcases all the paintings I've created so far:
Thanks so much for stopping by. Y'all come back now, ya hear.
*Waves away ala Beverly Hillbillies*