My husband and I are not the biggest of adventurers. You're probably never going to see us bungee jumping out of anything, no white water rapping (this involves balancing yourself on a boat while busting some rhymes), and no riding wild bull calves.
About the only thing we are adventurous with is food. We'll try just about any cuisine at least once and as soon as something new or different comes out in the grocery store we swoop in to test it out.
I have two that we found to share today.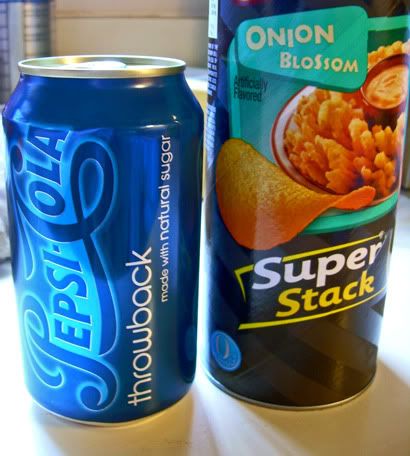 The one on the left is a boring
ol
' Pepsi can. Or is it? Well obviously it isn't otherwise I wouldn't have brought it up. I just like to be a smart ass sometimes. While we were up at the puppy baptism I spotted some Pepsi Throwback and just had to get a case to
satisfy
my curiosity.
As you can probably read the Throwback is made from sugar instead of high fructose corn syrup. Pepsi's only been releasing it in certain areas so we hadn't seen it here yet. It's interesting. I'm not a big Pepsi fan (too sweet as I've gotten older) but there is a
noticeable
lack of an aftertaste that you usually get with regular Pepsi and I can taste the sugar.
It just makes me hope that this is popular enough Coke and Dr. Pepper try it too. I'd much rather get my hands on one of those made out of sugar.
The other product is for anyone out there like my husband who upon looking at an onion has a GI spasm attack but still loves the flavor of those Onion Blossoms so popular about 10 years ago at steak houses.
Again, I'm not the biggest
Pringles
fan ever, but these things really do remind me of having an Onion Blossom. You get the mix of the batter the onion is dipped in, a little onion, and then some of the horseradish sauce. Since I've been resigned to just about never having one again this is a nice
substitute
.
So those are my two little newest food stuffs I just felt I should share. Have you found anything new and interesting that you like? Has anyone braved the rather horrifying sounding Strawberry and peanut butter M&M's?
*************
Ooh, big hugs to Megan as today she put up a very nice post about my paintings at
Offbeat Bride
(I have some major connections, eh?).
Go check it out, hopefully the comments won't veer off into the "creepy" territory. I'm secretly hoping I'll get to do a colored wedding dress. *crosses fingers*