There's really no reason to drag this out too much.
A hem *pulls out script* I can't read a damn thing on here *adjusts glasses* Oh there we go.
WE HAVE A HOUSE!
It was a whirlwind. On Thursday we saw another round of houses none of them coming close to knocking our favorite out of the running and at night we both realized we wanted to put in a bid. Friday we made all the quick calls to set up a meeting with our realtor (and after seeing all the other options out there we knew there would be really stiff competition for this house if we waited too long).
Saturday as we were getting ready to head out and do boring weekend stuff we got the call. They accepted our bid and the house was ours. We close on July 10
th
so we have a little over a month to get all our ducks in a row (luckily we've got til the end of July to be moved out of our apartment so we have a little bit of time to move in).
I'll have much more detailed pictures of the inside soonish. We're going to meet with the inspector sometime this week and I figure at that point I can sneak off quick to take about a million pictures. We've already started thinking about how to go about decorating and setting the place up.
Actually I had a thought that I knew the best way to plan our house ahead of time. I loaded up my old Sims 2 game and created and designed the house within (I love dlc with all my hear too I might add). Now we just have to debate over what color to put on the walls and where we're going to put our two computers.
But I did finish the first painting that is going onto the walls last night. I guess it's good to know that I can make a big fancy painting to decorate our place up for way less (I'd say cost is about $30 for an 18X24) than we'd ever pay for something even commercially produced: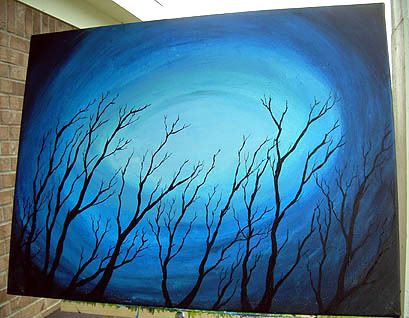 No matter what we wind up painting the walls or the like I know blue will be around somewhere.
It's crazy what you can do over a weekend.