My
Craptacular
Fourth of July Weekend.
A report by me, for me and of me.
*A hem* The day of
Independence
didn't start out too bad. In fact, it was looking to be a rather good day. Our celebratory Beer Can chicken turned out quite well and very flavorful (no setting a whole chicken on fire this holiday):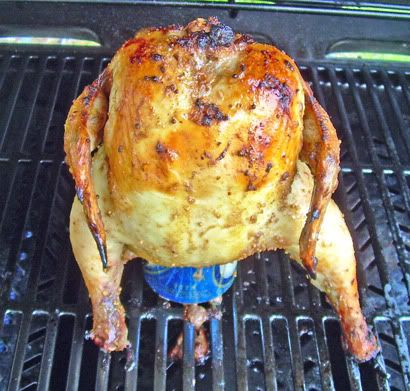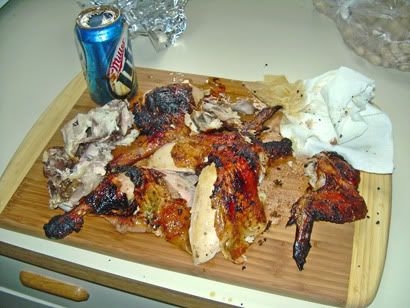 After eating our fill we set out to accomplish some house chores trying to blissfully ignore all the hoops we had to jump through on Thursday to appease the loan people (who just had to wait a week before, with a holiday weekend coming up, to spring it on us. Really, thanks guys. I'll get you a fruit basket full of poisoned apples) and how we almost couldn't get the house due to the appraisers ignoring the basement. (We got a deal, but it's gonna cost us another $1,000 in the down payment)
We spent a few hours at a furniture mart sitting on things and poking around every drawer imaginable (I'll share our finds some other day when I'm in a happier mood). Around about after noon the whole day started to take a wrong turn.
The weather started out sorta nice (if you ignored the foreboding clouds in the distance) so we took the chance to duck outside and shoot off our rather boring fireworks.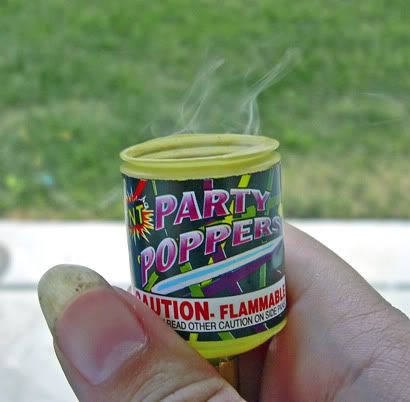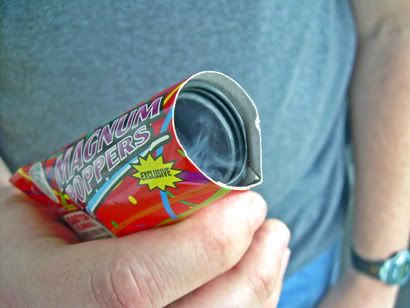 We were planning on saving our bigger more night-
tastic
fireworks for later, what with when night would fall and all.
Then the storms blew in. I thought, oh we better try this before it thinks of raining. And crouched out in the parking lot, a grill lighter in one hand and a fountain cone in the other I cursed the never ceasing wind with all my breath.
With cold storms, constant rain, and constant stress coming at either our housing situation, our jobs or from family problems (you don't even want to know, but suffice it to say I'm thinking about adopting a dog from a local shelter again) this has been -- by miles -- the most
craptacular
and
shit-tastic
fourth of July I've ever attempted to celebrate in my life.
Both of our stomachs are boiling away with stress and worry, instead of encouraging cookouts and swimming the weather sent everyone hiding inside, and we didn't even get to see any damn fireworks.
I seriously hope you all had a much better holiday because I wouldn't wish this on my worst enemy (well maybe one or two).
Now to just hope and pray that we make it to Friday without having another major meltdown.