I'd like to think I have about the normal level of public shame that the average person does. Or at least I did when I first started my picture a day
thingie
.
It's quite debilitating to pull out a camera, wait for it to turn on, get everything all set up and just as you're about to snap the first picture feel twenty pairs of eyes drilling into the back of your skull as though you just stripped naked and said you were going to feast upon the brains of the living.
I employee a touch of hyperbole but there's still this weird presence of mind that you must be a strange tourist or one of those a few shots short of a roll artist kids whenever you pull out a camera and focus on something other than a bunch of people standing in a line.
After about 8 months of this picture thing, I've developed a thicker skin to the weird stares (or I've become the insane pretending she's an artist kid type with a few rolls of film to blow through) almost to the point I forget that I'm even doing something weird.
Then I start snapping pictures like this: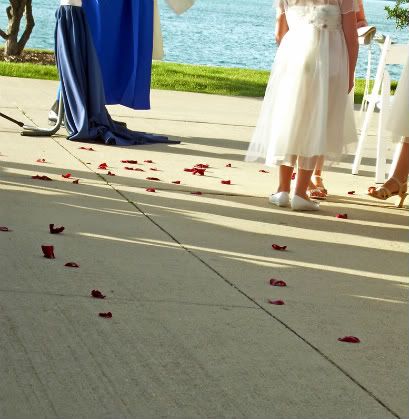 Or this:
And I feel the hair on the back of my neck pricking up warning my buried herd animal instincts there's a predator eyeballing you, run as fast as you can. We have moved a yellow alert on public humiliation, if you don't desist soon we'll be at red alert and then you'll have to fire all
torpedoes
on a
Romulan
Warbird
.
I'm still not totally immune as I had an idea to take a picture of the rose petals on a slightly rain soaked ground to document the light rain storm from the wedding but I only got one picture before I just couldn't take the looks anymore and put my camera away: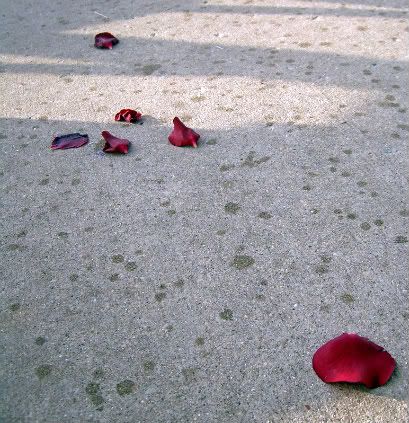 Do any of you other camera toting picture happy artists get the weird stares and fear of public humiliation? If not is there some sort of spray I could order to dispel the fear or baring that an invisibility cloak?
Maybe if I just started snapping pictures of people straining to smile as they stand in a line bored out of their minds with the same picture you see every year for every occasion. Nah, I think I'll stick with rose petals on the rain soaked ground for now.
You got to have one stupid fish swimming against the tide, screwing up the spawning patterns of all the rest.