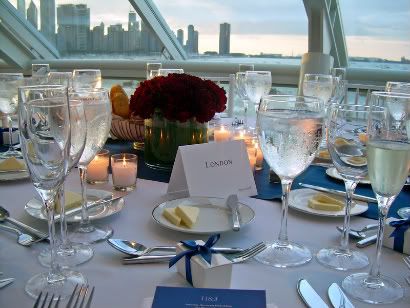 As I go over the pictures I snapped from the
SIL's
wedding and debating which one to share I'm reminded of a trend I've noticed that I kept meaning to bring up and then promptly forgetting (like the moon full of lost socks my brain contains half thoughts that are so numberous they're about to collapse in on themselves and form a black hole.)
Everyone is all excited to share in your journey to becoming a bride, watching as you make decisions about what to do for your invitations. Urging you to share your dress choice, how you decided between the chicken or beef, and just what cool things you came up with for those candles you got a garage sale.
But once the wedding day is over, you've caught your breath from your whirlwind honeymoon and you can't wait to share all the pictures and details from your day
everyone has
abandoned you.
I can't even begin to count the number of blogs that will have a good 10-15
commenter's
all wishing the bride luck as her big count goes from months to weeks and finally days. Then she comes back, flush with excitement to share all those plans everyone was so excited about and she'll get maybe a comment or two. And they're usually in the two word range of "That's nice."
Throw in the fact that it takes a good 2-3 months for pictures to roll in and the wedding hungry hordes have already moved onto the next doe eyed generation of letterpress and tulle
debaters
before the new wife has even gotten a post past her bridal portraits.
I picked up on this when I started my own wedding re-cap and I kept it crazy short (think of all the fun stories you may have missed out on). Those of you who could last through 30 or more posts about your wedding have my hat off to you. When all I got was the dark silence I crumbled and moved onto something else in my life (and never gained back the same popularity).
It is fascinating how we're driven to be curious about and help with the planning and getting ready, but when it comes time to view the fruits of the labor we vanish in a poof of smoke.
Maybe it's the stigma, the whole it's the Best Day of Your Life thought around weddings and that women can never let go. So if someone does drag their wedding recap out over a few months then more and more people approach it less with open minds and more with the thought at the back of their mind "Why won't she just move on?" "Does she not have a life to live?"
Or maybe when it comes down to it, while no matter how specific it may be, the planning details can apply to a wide audience while the wedding itself is such a personal experience it can never have the same impact as comparing ring bearer pillows from etsy stores.
What are your thoughts on it all? Did anyone else get the "Don't bother recapping your wedding, no one will care" feeling?
And this has been another random thought from Sabrina's brain. Check back next week when we compare the flavor and texture of various breads to their best spreads and how to achieve sandwich nirvana.