Ooh it's the day of nothing but twos. Better watch out, Two Face could show up at any minute and whine in the back while he looks for his lost coin.
Why
Gotham
wouldn't just disallow any building with a bunch of 2's in it or say bulldoze every greenhouse or amusement park as soon as it became abandoned is beyond me.
Anywho
, another day another update on all the work that we've been putting into the house.
We've actually had a master plan for the getting our house all dolled up. The first room we painted was going to be the bedroom so that the next day we could get ourselves a Rug Doctor:
It was a giant pill to have to refill it every room (especially as I don't own a 3 gallon bucket), and I really want to know why they design these things to fit perfectly for all those 4'2" ancient Egyptians running around. All of us modern people over 5' wind up with a horrible back ache.
But even after all the back breaking labor, sloshy mess and rental fee it was totally worth it. This is just one room and look at all that muck and dirt (not to mention
doggie
fur):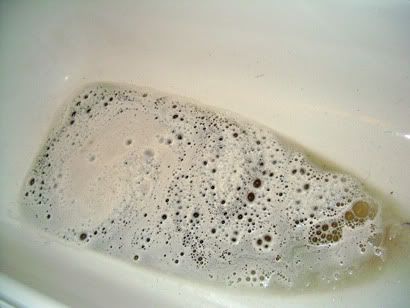 It's funny how often we keep forgetting something we want at the apartment. There was a lot of, oh crap we need some paper towels, or wouldn't it be nice to have a bottle of lotion for the 50 times we wash paint off our hands.
In the middle of cleaning off the carpets I went to put my hair up and realized that I forgot my hair ties at home. So I searched the mostly empty house trying to find something, anything to get the muggy hair off my neck. Then I caught our little welcome basket with its big ribbon.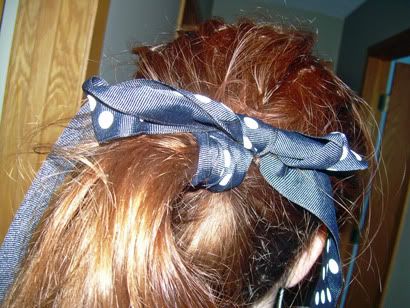 Looks kinda fancy for something I whipped up while a rug doctor demanded attention. Well fancy for me at least.
Has anyone else tried using a rental carpet cleaner before? Did it try to bite you too? I still have the band-aid on thanks to that.
I promise, no posts about the house tomorrow. I'll find something much more interesting. He he he. Ha ha ha.
MWHAhahahaha
.
Who let the half deformed guy in?