Today's the day. The day of signing our names away, giving up our savings, and hoping we come out of it alive.
But rather than sit here and freak myself out for the next 4 hours about what all can and will go wrong I'm going to blissfully pretend nothing is actually going to happen at 1 PM. Nope, absolutely nothing out of the ordinary. Maybe I'll even take a few beakers with me to pretend I'm doing work.
Instead I want to talk about that oft touted but normally neglected part of the food pyramid. I'm sure you've all been dying of
curiosity
to see just what happened to the tomatoes I planted in the
aerogarden
a few months back (aside from the fact that they've been trying to escape for a few weeks now. They really seem to think being in the kitchen sink is much better than in their pot).
Last night I noticed our first little cherry tomato. There are a bunch of smaller green ones, but I had to take a picture to
commemorate
the, um, fruiting of the first.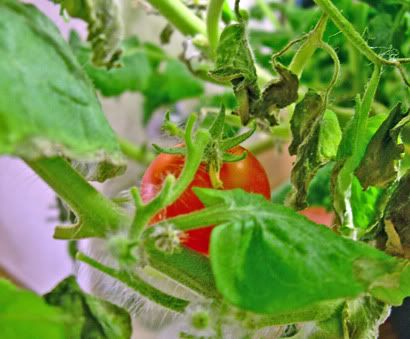 Yesterday my lab mate brought a bunch of vegetables from her garden to share with everyone in the office. I took one of each hoping I could come up with something (I'm not sure if this is something subliminal or not).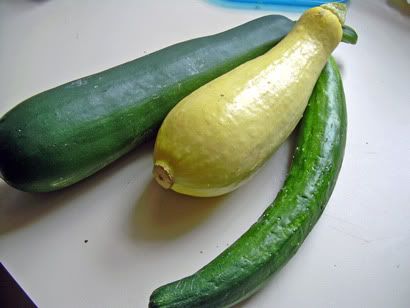 It reminds me of a story I was told once. *cue the wavy lines*
Small town anywhere is a bit different from the rest of the world. For one, everyone knows everyone and what everyone gets up to (and generally before that person even does). Second, no one locks their doors or cars ever. In fact sometimes they leave the keys in the car just in case someone has to move it for the tractor to get through.
In this one small town there are two churches, one Catholic and one Methodist. The Methodist church used to get out while the Catholic mass was still going on. Usually this was no big deal, but come zucchini season if the Catholics didn't remember to lock their cars and roll up the windows they'd come out of Mass to find the thing stuffed full with bags and bags of zucchini.
Moral of the story, everyone should keep their cars locked from reverse
thievery
.
I think the cucumber is destined for a
tzatziki
sauce but what should I do with the two squashes? We never had it much growing up so I don't have an instant go to with it. What are some of your favorite recipes with squash?