What is it about these three guys? Every time my life is just being a giant pain in the ass they do something that makes me jump around in my office excited forgetting about the
groom's cake
that's two seconds from collapsing in on itself or the in-law wedding from hell.
Just who are these guys? Why it's Mike Nelson, Kevin Murphy and Bill Corbet of
MST3K
and
Riff Trax
fame.
And what has me all a
twitter
?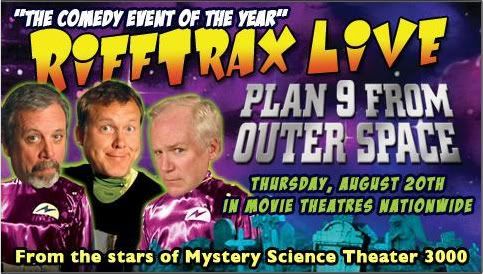 Fairly exciting as I learned from the Honeymoon and getting to catch Cinematic Titanic there is nothing to compare with a theatre full of MSTies. Then I clicked on
the link
and on a whim put in our zip code.
And proceeded to fall out of my chair. Holy hell! In the land of corn & cows, the state that can't bother with anything outside of big Hollywood, a local movie theatre is actually going to host Rifftrax Live?
Calling it our "holy shit we have to move and no one is helping us" treat I booked two tickets as soon as I peeled myself off the ceiling.
I think there are a few geeks reading but if there are any big old fans of Mike and the 'bots just go here to see if Rifftrax live will be in your town. Apparently there's a goody bag as well, but I just can't wait to see them up on the big screen once again.
What a wonderful hump day present. Even though they'll never see this thanks again guys. I'll make you your own wedding dress painting for free as a thank you. I think Kevin would look best in something strapless and lacy.