*WARNING* Stop
*SUPER PICTURE HEAVY POST AHEAD* Stop
*TURN BACK NOW IF YOU'RE STILL ON DIAL-UP* Stop
*HOW DID I WIND UP ON A TELEGRAPH?* Stop
*HELP! I'M STUCK INSIDE THE MACHINE!* Stop
I'm a Halloween nut. Just thought I'd get that out there in case a few people still weren't quite sure. But I am, huge one really. Love it to pieces.
So even though this was the first week in September I've started digging through our holiday closet (we have a holiday closet now,
yay
!) and deciding that while it's still a little early for the spider webs or giant inflatable witch on a
Harley
(note we do not in fact have anything inflatable, stop throwing eggs at me) it was a great time to get started on our little Halloween Town.
Today is a
pictoral
trip through our little village made up of a vineyard,
cemetery
and pumpkin patch.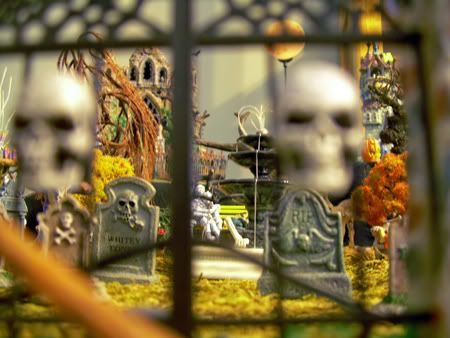 A little peek through the gates and then from the side of the gate.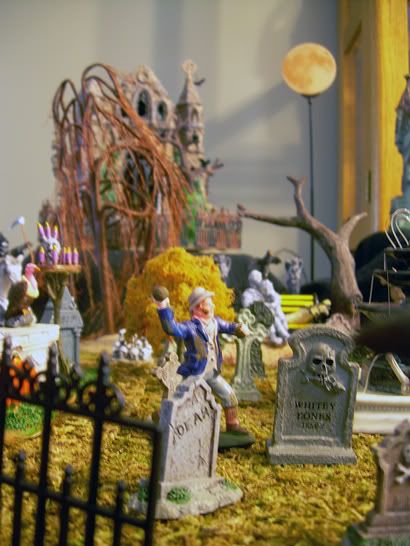 This old
gothic
ruins church is new and I love it. Some light pours in from the sides but in general it's just got a very spooky who knows what's buried in the basement feel.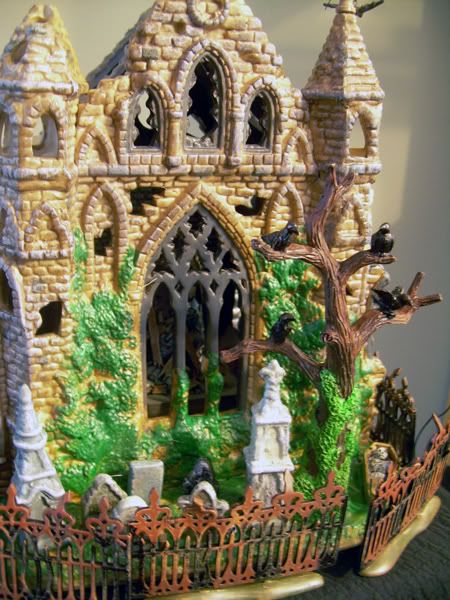 The pumpkin patch side of things. I had to get the little axe grinder after seeing he's holding a chicken (Have I mentioned that I hate chickens? Cause I really hate chickens).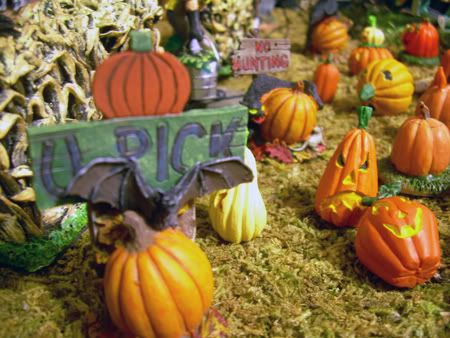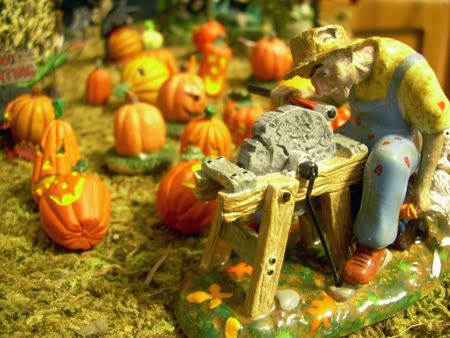 Notice the kids I corrupted from the snow village now throwing dirt clods in the
cemetery
. In the background a pair of mummy's cuddle on a bench and the fountain has a few leftover bones soaking in.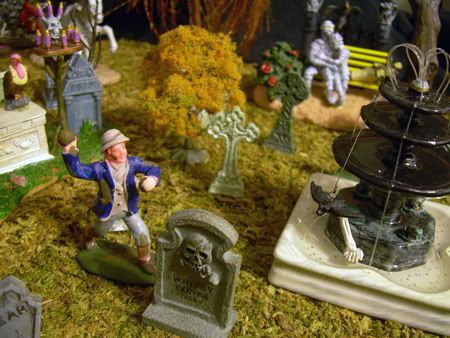 I like how no one notices the monster sleeping on the park bench.
Uh-oh, the kids were being so loud they woke up Swamp Thing. And he's always so cranky without his morning cup of boiled silt.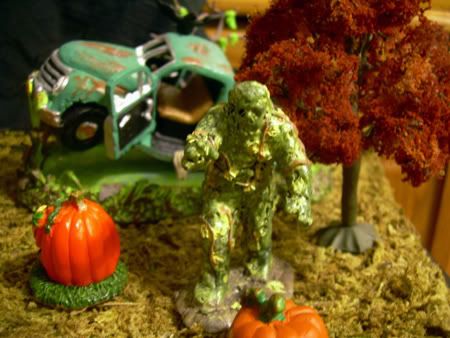 The local Vineyard next to the
cemetery
has been invaded by vampires (why a vineyard would set up near a
cemetery
is
anyones
guess. They were kinda asking for it really).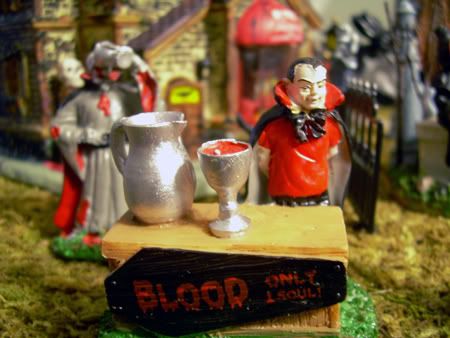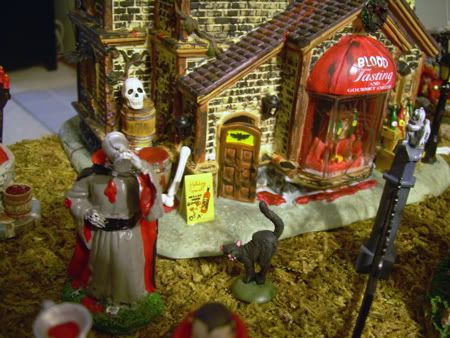 And that's just a little taste of our village. There are a few other pieces that are scattered throughout including Death & Binky, a fisherman bringing heads to feed swamp thing and Dr.
Frankensteins
laboratory.
But they'll have to wait. I just found this cool thing called
morse
code and I have to learn its tricks before tomorrows post.
So Happy Early September everyone. Or as we
morsers
like to say . . - - - . . . . - - - -