I have a deep and unabated hate/hate relationship with shoes. While I hate how they trap my feet and because I was born with nary a Y chromosome I have to wear the most ungodly confusing contraptions when it's dress up time, what I really hate is that by law I am required to wear shoes everywhere I got (and closed toe at work, stupid chemicals).
Truly it is a simple straightforward non functioning relationship born out of an evil necessity. But I always thought I had shoes fooled and they were at least ambivalent towards me or were willing to pretend I didn't despise them down to the tips of their shoelaces.
With winter approaching fast on the heels of a cool autumn, I've come to accept that Essie isn't going to suddenly get over her "I can't go out to pee unless someone is with me" complex before the big freeze.
So I went hunting for some shoes I could easily slip on that would provide a bit more coverage for my toes over my wimpy summer sandals and that were a bit more water proof (sadly no fuzzy slippers for wading in dew/frost encrusted grass).
I thought I lucked out as I found a pair of canvas boating shoes for $7 that should do the job nicely and be able to slip in and out of for quick walks and the like when I didn't feel like fighting with my more substantial tennis shoes.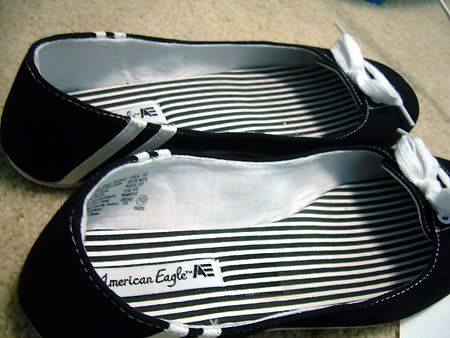 As soon as we got back the puppy really felt that she deserved to go outside, so I figured I'll get the "breaking the shoes in" out of the way and take the puppy on a quick little walk around the neighborhood.
It was a gorgeous day, a brisk breeze to combat the last vestiges of a summer sun. Es was in high spirits, just happy to be out of the house and free to try and say Hi to all the mother's pushing strollers (I think we have an anti-guard dog on our hands. She loves everyone).
But every time I'd take a step I felt a little pinch at the back of my heel. At first it was barely noticeable, just slightly annoying and something I thought I could work out as the breaking of shoes continued.
About two blocks away from home it started to really burn, like someone took a bit of sandpaper to my ankle and rubbed like a mad man before I could kick them in the nose.
In fact it was so bad, I took both of my shoes off and carried them while walking barefoot back home. When I sat down I was able to assess the damage.
This is what they did in under 15 minutes of wear to my right ankle.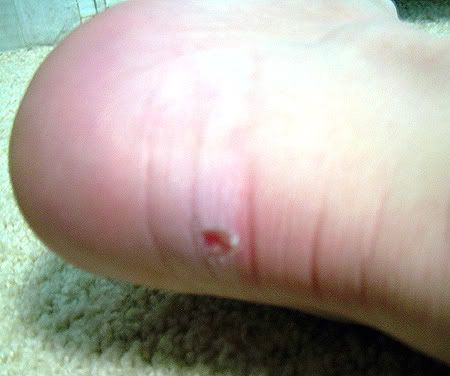 Sorry for the blurry photo, it's surprisingly hard to take a picture of your ankle and get it in focus. Who
woulda
thunk it?
Now when anyone asks me just what I have against shoes I can point to my ankle, with a quiver in my lip and scream "They're trying to kill me!"
Does anyone else have this little problem with flats? I'm thinking I'm going to try rasping down the back so it can't rub so badly while walking (and it isn't because I feel like I have to enact revenge on the shoes by say rubbing a piece of it's skin off, nope not at all). Or maybe wrap the back in a nice
cushioney
batting layer.
What we really need though is the freedom to throw off our clog oppressors and run free through the grass. Who wants to join me in my million mile march for barefoot awareness? After the first couple of miles you've lost all feeling on the bottom of your feet.