It's the first day of class!
Don't forget your pencils and notebooks and drill bits and skeleton bones! It's been quite a few years since I was last in a class setting (obviously I couldn't just up and quit the college experience -- it's the terror in all their little eyes as they realize just what horrors they've paid through the nose for). But as I prepared for my community college night class with my husband all the old worries and fears came back.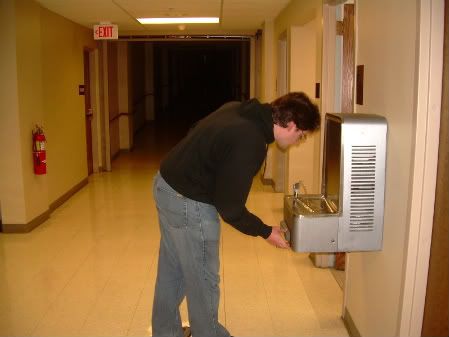 I checked a good five times to make sure I had the date and time right, read through the little blurb to make sure I didn't need to bring in say a cows
rumen
(animal science will do that to you). Then there's the "Oh God what if I can't find my room?" Followed by the "Well maybe if we leave an extra half hour early if we get lost we should be set."
And then the "Crap we're so early we're the first ones here, quick act like you're gearing up for a 500 mile trek across the desert at the water fountain."This wasn't no boring learning and thinking night class though. No economics to rot the brain, no organic chemistry to turn the fingers blue. It was way scarier than all that.
It's a Halloween prop building class and its very existence is a nice reassurance that my husband and I aren't the only weirdos out there as everyone explained why they were taking the course. Just about everyone stood up and the first thing they said was "Halloween is my favorite holiday" almost as though it was part of a script.
Secretly I was hoping just one person would say "Well Christmas is my favorite holiday but they didn't have a class for that so do you think I could have a grave busting Santa?"
They had a bunch of projects you could make and work on from a rusty lantern (pretty sure I could do that one on my own) to a giant PVC man (we're not quite ready for that).
My husband picked this guy.
Boney
McNoflesh
, the greatest Opera singer who never lived.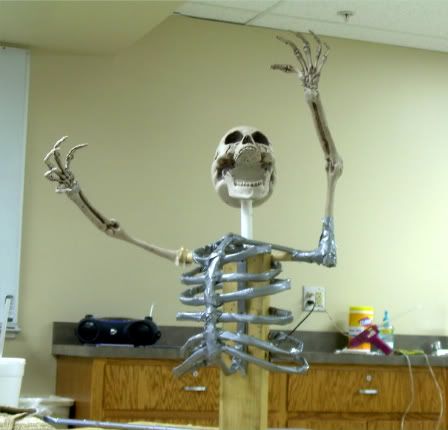 Okay so he'll look a lot better once someone puts all his flesh back on. It's a lot easier to hit the high notes with vocal chords.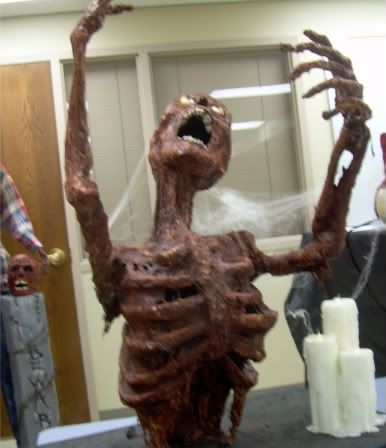 As for me, I went a bit more traditional and with something that can much more easily be customizable. I'll be making a tombstone.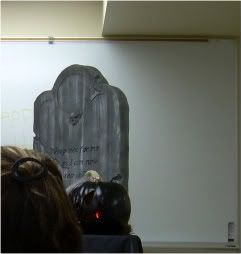 This is part of the "kit" I got. Hm, is that a couple of paintbrushes and acrylic I see in there? I think I may already have quite a leg up on the class.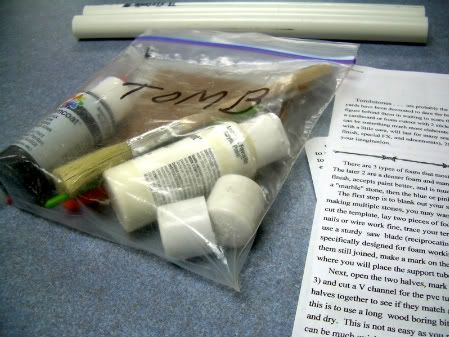 Sadly, our
instructors
forgot the head and hands for Mr.
Boneyhands
so my husband couldn't get to work right away on his. Instead he helped/watched me get to work on my tombstone.
This takes me back to early
highschool
art days. I was lucky enough to be in the "smart" kids class which mostly means the teacher figures they can trust you to not be a giant jackass and chop a few fingers off and lets you do cool things like play with real jigsaws.
Holding a nice sharp blade each of us cut out of foam two copies of our tombstone shape. It was starting to look a lot less like Halloween and more like that other holiday who shall not be named but is already starting to show up in some stores.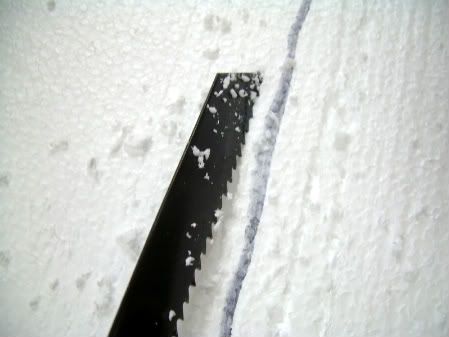 Once both pieces were cut out, it was more blade time as I dug nice holes into the foam for the placement of PVC pipe to help the foam stay standing and also to provide an easy way to shove it into the ground.
And that was about as far as I got. Our next class is Thursday and at some point between then and now I have to find a good tombstone saying (I have a neat idea) and a good font to go with.
My husband has his own ground breaker homework as well, something with newspaper and duct tape and ribs.
And the best part? No final exam!
Have you ever taken a night class with your husband or S/O? We were the only husband/wife team but there were a couple mothers with their daughters (which is pretty damn cool on its own). What's the weirdest class you'd ever think about taking?