I get a lot (okay not a lot per
se
, but a handful well at least a couple you have to give me that) of e-mails from people asking me to pimp various goods and services of theirs. Actually it's kinda funny as it wasn't til after my own wedding and the blog change that it really started and it was only for wedding stuff like a wedding
photog
or someone trying to sell really weird plastic cups.
Basically a whole bunch of stuff that had little to no impact on my life or anyone
elses
(how do some of you manage to pull in so many companies that offer you stuff to giveaway? I'd love to give out some cool Indian spices with a favorite recipe). But then yesterday came a surprise, an e-mail from New York.
Someone had been looking at my blog and suggested that my readers (hi, all five of you) would like information about this encore event.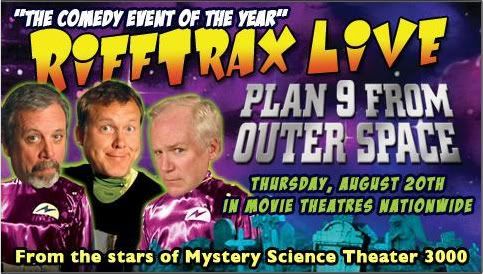 You may or may not remember but I attended this first
RiffTrax
live event and
blogged about i
t. For those who don't have the time or mental focus to read the it all (hey over here! Look squeaker toy!) to sum up Awesome time had by all. Great experience in the theatre and am so glad I went.
And apparently I'm not the only one as they are going to rebroadcast their
Rifftrax
Live in theatres due to so many selling out. (It was fun to stand in the line with a bunch of other MSTies joking about how we could go see Rifftrax live --which I already had tickets for -- or Julie & Julia).
The Encore will be October 8
th
(eek 10 days from my first anniversary. Should I be planning something for that?) and you can
go here to the main site
to see if it will be held in any local theatres.
I only remember
Chesney
said her hubby and kids might be interested in the idea but if there are any other closet nerds who like bad movies, laughing or have ever even seen Plan 9 (or watched Ed Wood just for Johnny Depp) I must recommend once again you got to check this out.
It was a great time and it was pretty obvious everyone involved was having a fantastic time as well. I love attending live events when the performers are genuinely happy and excited to get to share their craft with the world (and maybe just a touch humbled to have the opportunity).
So once again, for anyone listening
Rifftrax

Encore
. Totally hilarious. Must check out. October 8
th
. Be there or be something corrugated.