Ooh let's play that stupid shower game where every one has to root through her purse and wins points based upon how much stuff she has that matches a certain list.
Only instead of a list how about we show off the weirdest thing we have?
I am sorry to say but I think I already have this one in the bag. Even though I only
carry
around an ID holder
thingie
I have on my person at all times a Periodic Table: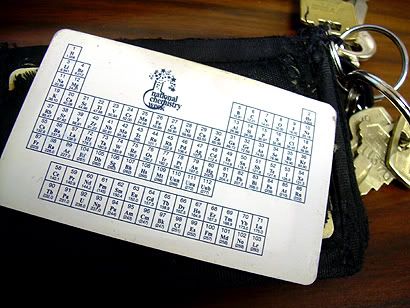 And it isn't just so I can get into all the trendy nerd bars either. I honestly use it sometime. Like yesterday. My boss was asking what the molecular weight of iron is, and so I pulled this baby out and told him "It's about 57"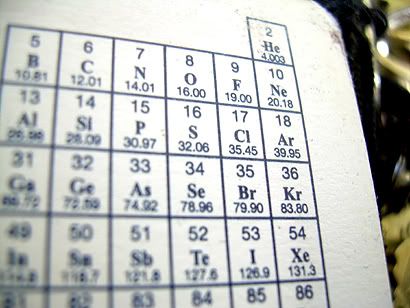 You'd be surprised how often I actually have had to use this thing. The only labs to put an actual periodic table on the walls
generally
have large clouds of pink smoke hanging over them, loud occasional explosions and break the hearts and spirits of freshmen (so you know, chemistry labs). Yet there are many times (about once or twice every three years!) that I'll need to calculate the molarity of something and won't have it printed on the bottle or a computer handy.
So out comes my laminated periodic table.
What's the strangest thing you carry with you every day? Can anyone out nerd me cause if so we'll have to have a bat'leth duel at dawn to decide the winner.