I've tap danced around this issue a few times but I think I should finally be frank and up front about it.
I don't own a purse. I have never owned a purse. Unless there is some sort of chromosomal combination I shall probably never own a purse.
What I do use (aside from some lap top bag spillover for work) is an ID holder that contains all the cards and 30 forms of identification I could need as well as a nice clip for my keys.
We used to get them free from the University when I lived in the dorms but they could only stay together for a year at best as they were made from plastic. Then I moved away and that very year they put out a fancy ID holder made out of fabric and everything.
Using my old connections (not so much my fiance who was too embroiled in grad school work) I managed to swindle one and used it for 4 years. Look at the poor thing, it's on its last tip toes.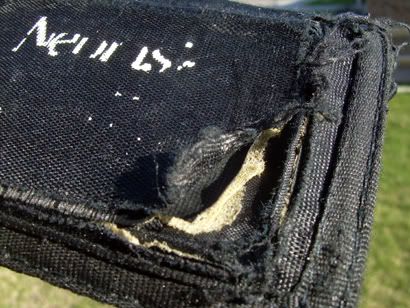 This is what I'd look like if I were a ghost, haunting people for the fun of it by writing messages in their cereal or appearing in random pieces of tupperware! Woooo!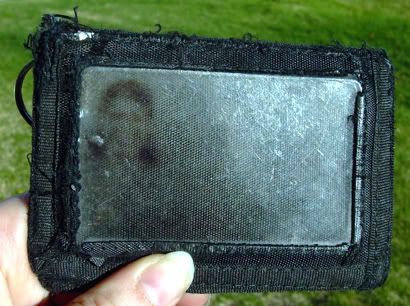 This just couldn't keep going on. I felt so bad for the poor ol' girl, the key ring was dangling on a few pieces of thread. I knew I had to do something.
So I went out and got myself a new one.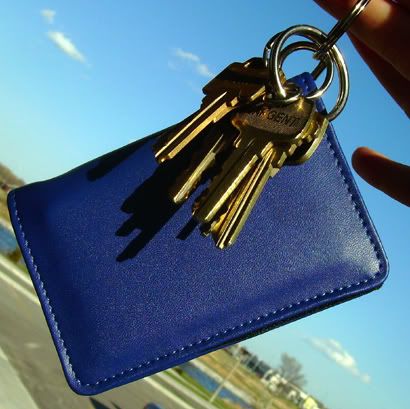 Look it's blue! And leather so hopefully it'll last me longer than four years before it starts to look like someone ran it over with a lawn mower. I was slightly sad to throw away the last free ID holder I ever got from the University. With it goes those wild and carefree dorm days.
Guess this means I really do have to grow up. And I was so hoping a little pixie would show up and fly me off to Neverland. Or at least leave behind some of that delicious fairy dust.
---
I just learned that a stray dog my best friend took in a few months ago left a little surprise for them this morning in the form of a little puppy (or possibly more). I know, it's a big inconvenience and unexpected, but awe! Puppies!
In a few months maybe I can go play with the puppies!