"Knowledge comes in two flavors. One is what you spend most of your life studying and paying for, the other comes when you've just stuck your fork into a toaster and realized it is plugged in."
This week I experienced that second flavor of
knowledge
(I like to think of it as the Cherry nut of knowledge. No one likes it, we're not really sure why we need it, but once it is gone we get our ear chewed off by very cranky grandma's.)
I've been feeling a bit run down. Not so much from work (bacteria continue to do bacteria type things) I'm just sick and tired of always having to plan meals. Especially as summer rears its big
ol
' ugly head and I have to retire a good half of my fall back meals because who wants an oven on when it's 80 degrees out?
At least that's my excuse for what I did to
achieve
Cherry Nut
notoriety
.
After Easter we scored a great deal on a leg of lamb (at least half off), and I thought oh crock pot with lots of lemon and garlic. Easy
peasy
. So I got up early, chopped up the garlic and got the whole thing put together.
Just as my husband was coming in to start making lunch I flipped the switch and left to get dressed.
Fast forward 8 or so hours later and we're coming home, looking forward to some crock pot type meat. I should have known as soon as I got in that something was wrong, it didn't smell right, but I was obsessed with the mail.
Then I open the lid and spot my elemental mistake.
A crock pot only works if you actually plug the damn thing in!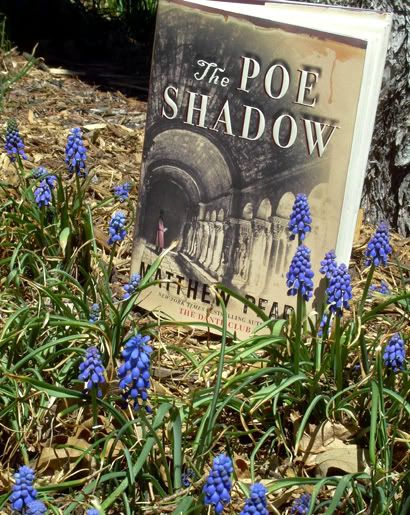 No, I didn't mix up pictures. I was so pissed that I didn't take a picture of the crock pot looking all sad and forlorn, begging for someone to plug it in.
Instead this is a picture of my latest book (about the death of Poe, I'm still in it and it has its
pluses
and minuses, but I like to wait til the end to decide for myself if it's worth recommending) surrounded by some pretty flowers at the arboretum.
I like to steal a few minutes to head outside every chance I can, if not to read at least just to enjoy nature. As soon as temps break the 60 degree barrier there is a
magnetic
pull to get me outside. Too bad I don't have anything much to do out there yet or really a good place to go.
What do you like to do when you only get a few minutes to yourself? (I am guessing few people will say run around like an idiot snapping pictures of flowers or posing a book just for the hell of it) Have you had any Cherry Nut experiences lately?
And the most important question of all, just what do you make for dinner in the summer?