I had the joy to get to paint not only
Krista's
wedding dress but also her hubby's tux. (Or as he put it, made some ghost people).
I do love getting to do blog friends dresses more than my average stumbles in from
Etsy
just because I've gotten to know them a bit better and feel more secure offering different ideas.
Anywho
onto the two paintings.
Krista
wanted a background of where they got married instead of my more standard one color and of her dress of course (no sneaking a couple cows past her).
This is her hubby's tux.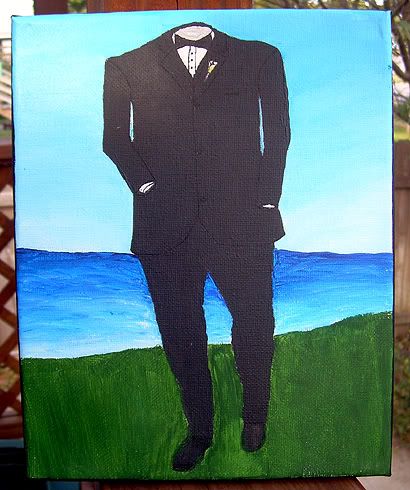 And even though I don't have a picture of the two of them side by side, the lake and grass line actually leads from one into the next so they look like they belong together instead of me just randomly picking a few lines out of the air and hoping I don't paint the dress on accident.
I really like how the dress turned out with all the folds and shadows and the subtler beading.
If anyone out there just stumbling across this blog would like their own wedding dress painting, you can check out
my store here
or just e-mail me and I'll work something out with you.
Later today I should have some other exciting stuff to edit in here, maybe. So just keep hitting refresh to catch it.