Four weeks, seven classes, gobs of paint and a few finger cuts later our Halloween prop building class is finished.
It's finally time to reveal our finished (or nearly finished) projects.
Most of my time was spent perfecting my little tombstone. I entertained the instructors with my liberal use of brown but as it took shape they began to see that I wasn't completely off my rocker with the idea (I'm just hanging off the arm rests).
Here she is, my first ever hand crafted tombstone but probably not the last.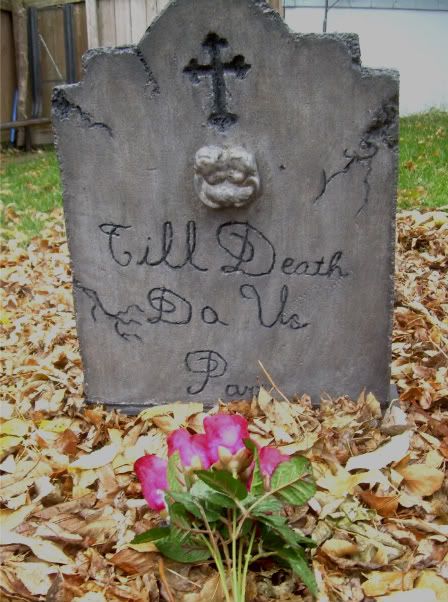 This is where I should show the back because I included claw marks on the back to give the idea that the beloved spouse was buried alive but alas the rain began and I had to pack it in quickly.
While my tombstone was pretty easy I managed to finish mine early and the last day helped my husband put the last touches on his.
You've watched Mr.
Daemon
slowly take shape as flesh was
latexed
onto his bones, my old veil was used to create his wings and now it's time for the final reveal.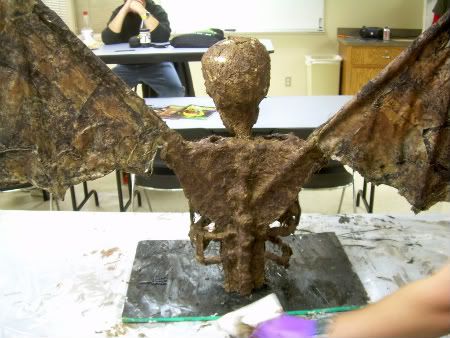 Only I'm gonna tease you like crazy because this thing looks just that cool.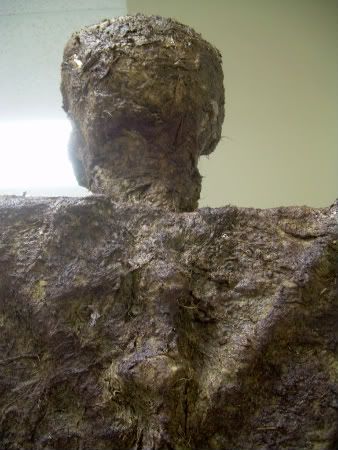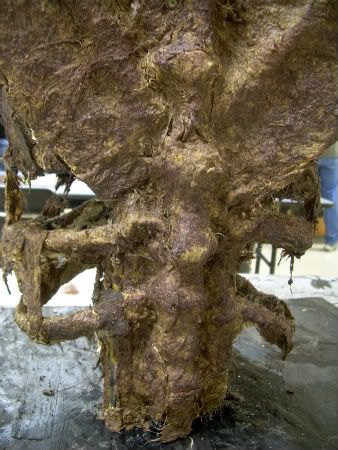 A close up of the hand and just what the latex batting looks like. I love how it looks realistic in both the harsh light of institutions as well as the dark cool of our garage.
Actually it was pretty funny. Due to the wet nature of the stained wings my husband had to cover the back seat where Mr.
Daemon
usually sits so
there'd
be no stains.
I stood at the door watching Mr.
Daemon
while also holding the door open for others. First a couple of kids from one woman in the class wandered by, looked at him and said "Dude, that looks like something out of Underworld."
I believe that is teenager speak for "Nice prop, very
realistic
looking. You very nearly scared me witless."
Then a woman who wasn't part of the glass wandered out, her phone pressed to her face. Something caught her eye and she looked down and jumped a bit
surprised
to see a winged flesh rotting corpse sitting outside the community college.
Enough teasing, here's Mr.
Daemon
Crowley from the front.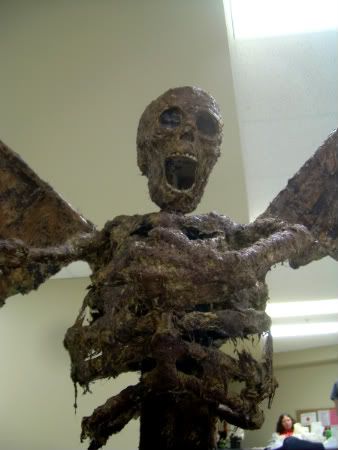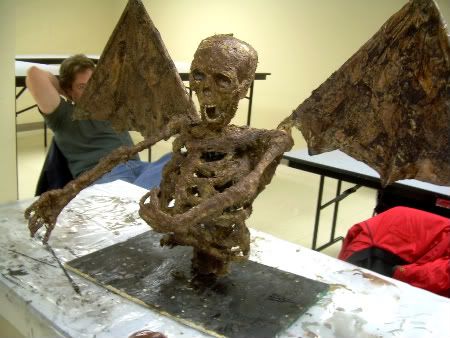 My husband was relaxing a bit.
There's still a set of horns to add and a sword to rust up and stick inside him but otherwise he's mostly done.
If you think he looks cool please leave a comment or so for my husband (who may read this blog more than I do). He's about as bad as me at hating things he creates.
And because I know everyone just comes to this blog hoping for cute puppy pictures, here's Essie looking her most regal.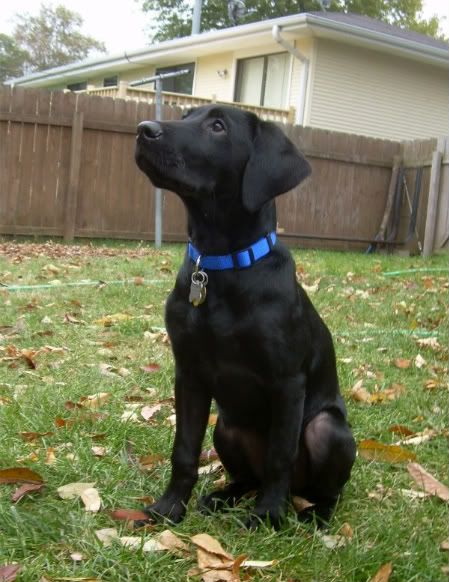 I'd like to say that this is her Milk-Bone cover look, but alas this was purely accidental.
I wanted her to look at me, but she was way more interested looking around in the sky which caused me to break into fits of giggles and get just one good picture.
Puppies, what can ya do?
If anyone wants to know how my tombstone or Crowley were created I can share some tips and info for you.
If anyone just wants to say how cool they are or how you're excited for Halloween the comment box is open.
If anyone has just caught a duck with their teeth and is looking for the
Guinness
guys, they're dealing with a 200 lb
bundt
cake right now but will get back to you.