Once Labor Day is over and all the school supplies are banished back to the office section of the store my husband and I begin to make the rounds. We'll visit stores we wouldn't dream of setting a toe into any other time of the year all in the pursuit of the coolest Halloween decorations ever.
And because I'm so nice, I thought I'd save you all the time and gas money and share what we have collected and from where and about how much it cost.
First up is our new china cabinet all decked out with
Halloweeney
stuff. The eerie glow added to the spider webs is from a simple black light up top which we got from Spirit for $20.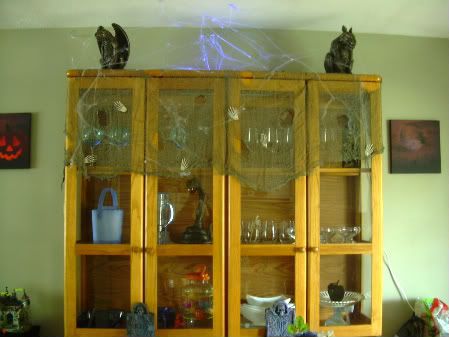 Both of the gargoyles are a Target find (which actually had some pretty good options this year) for about $15 each. There is a very good chance they'll just sit up there all year long guarding our glasses from any pagans.
The hands scattered across the spooky fabric are actually a pretty cool Dollar Tree find. For just $1 I got 10 of those suckers and I'm thinking they'd make an awesome set of clasps for a cloak or hair clips or a billion other ideas.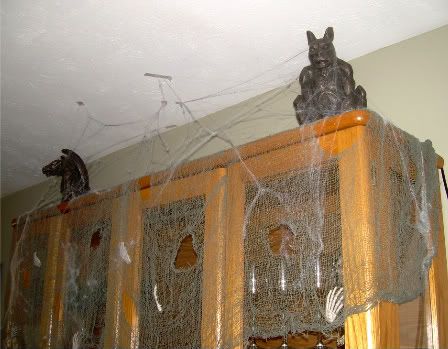 Inside our cabinet rest a few other curiosities. This little guy and his other cousin are both from Target for about $2. They're bendable at the arms and feet.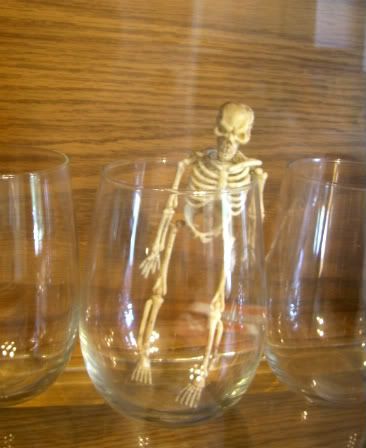 This snake is from last year sadly and I haven't seen any this time, but he came from
Walgreen's
and he's pretty cool as it's motion activated and if you walk past the eyes glow red, he lunges forward at you and then rattles his tail.
If it weren't for the puppy he'd be hidden somewhere on the floor instead of tucked safely away inside the cabinet.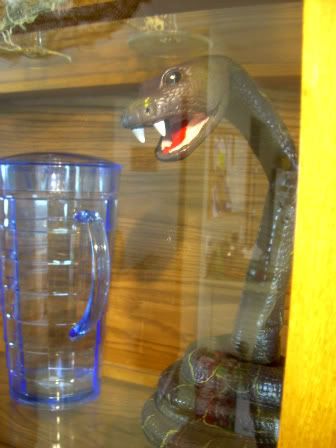 Our kitchen table is decked out with some
place mats
also from Target. They had both purple and orange suede spider webs, but we liked the purple a lot more. I also for the hell of it stuck some spiderwebs all over my bouquet on the table and put a nice dollar tree spider on it.
The sugar and creamer death set comes from a little party shop we hit up on our honeymoon in
Anoka
, MN (the Halloween capital of the world as we learned upon arriving there). The fact that we had to buy it says that we read a bit too much Pratchett.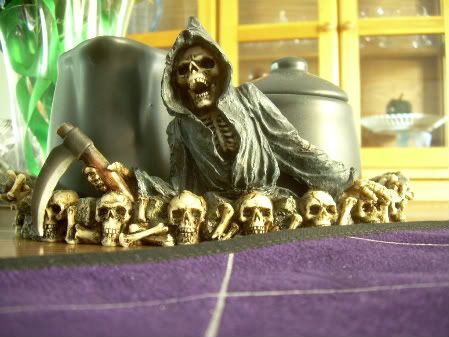 This is actually a cheese dish. The little saw has a blade hidden inside but Frankie looks much better as a candy dish. We got that from a local kitchen supply shop along with a black
porcelain
apple (which I used to help me make the new banner) at a major holiday sale.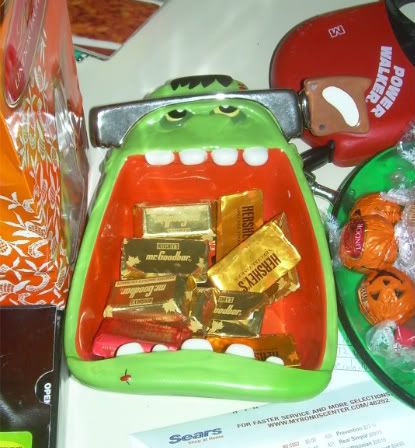 The mantle is made up of things you mostly can't buy: my painting, little death in a globe, Servo decked out for Halloween. But the candles and various shades and candle decor all come from Yankee as well as the mantle spiderweb runner.
All of the bottles are from
Michael's
for about $1-2.
If you're looking for a nice simple mood skull that doesn't make noise, glow or tell horrible jokes
Walgreen's
in the place to go. They have a
fricken
awesome super heavy skull for $5 that is so detailed it really looks authentic. We actually have two right now and if they keep making them we'll probably get a lot more.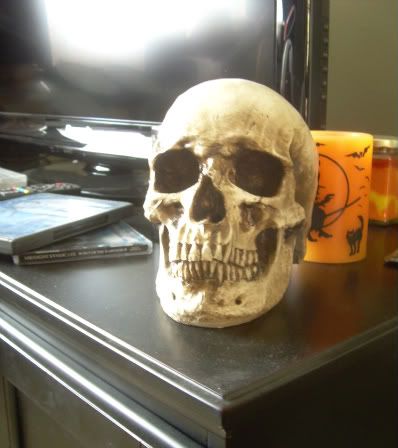 Decorating our main window is a big
light
up spiderweb from Target. It glows orange and looks quite a bit like a spider web from the street. It was $15.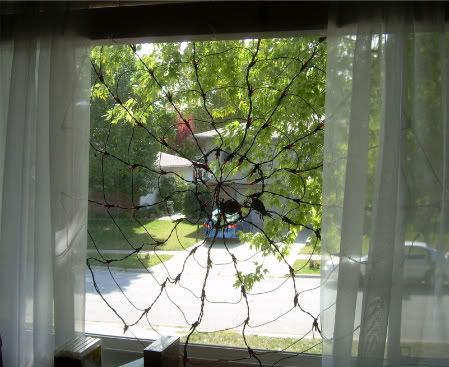 Another Target find is this skeleton in the coffin mister. It's a really nice piece as despite his legs being obscured they are detailed out and look really cool. The mister actually changes color but I had to use my flash to get a good picture of the fog. He was about $20.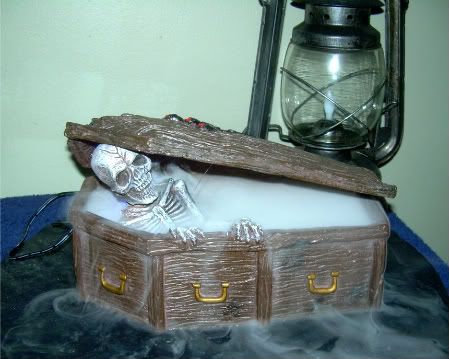 Haunting our kitchen window is a ghostly woman, possibly a disrupted spirit when we broke ground to put in the puppy kennel. She was just a simple window cling from a party store for $5.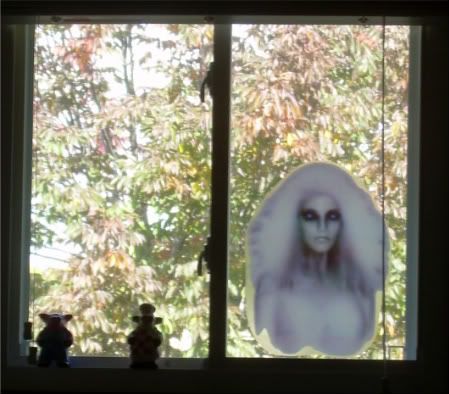 And finally, courtesy of
Michael's
and the Martha Steward collection out of my painting room window is a curious skeleton.
He's a window cling so in theory we should be able to use him
multiple
times, but it was a bit of a pain to get to stick.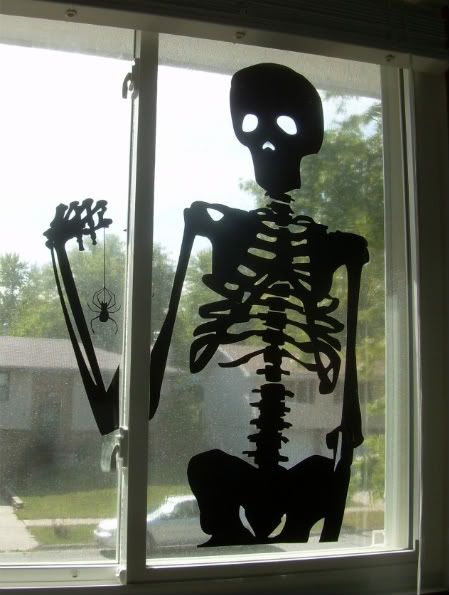 This isn't even close to all the cool things we have floating around, but I'm taking my time slowly putting things up and I'll share what else we've got and found and see if it triggers anyone
elses
ideas.
Did you see anything that you thought would look cool for yourself? What are some of your favorite decorations?