Like a child who's just been shown how to work a
vacuum
my husband has taken to raking the leaves and taking care of the garden.
He grew up in a townhouse area where all outside maintenance was taken care of by someone else. So he'd never mowed a lawn or raked some leaves until we bought our house (and in the case of the former I showed him how).
Because of that, the patina of life hasn't grubbed up the shiny excitement of getting to use a rake or dig up a ton of weeds so when I'm locked in my room trying to create a masterpiece but winding up with more of a mess he's outside with the puppy digging around in the garden.
Or what has become a much more pressing necessity thanks to the cold snap been raking like mad so Es can have her own special jumping pile.
For the most part our lawn has been organized and generally random leaf free.
Or at least it was until a lovely rain and wind storm hit and we came home to see this. I swear there was a sidewalk here at some point.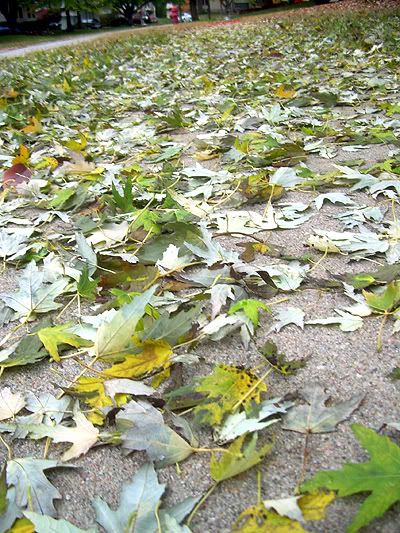 It's all thanks to a huge maple tree in our front that's been hoarding its leaves like a Dragon with gold, but no matter how much it tried to trick the
Dwarves
it's finally begun to succumb to the pull of gravity.
This is also a great time to show off the Halloween decoration we got, rather fitting as we just bought the house three months ago.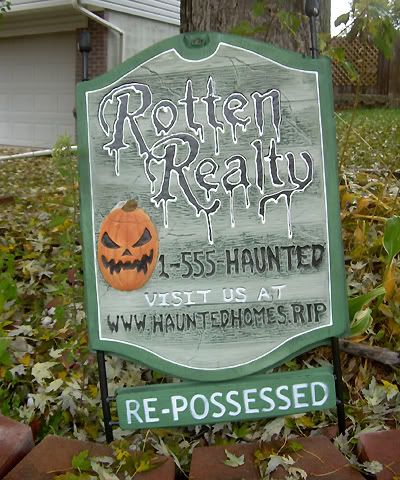 It almost looks like a magazine photo shoot, except those are done with silk leaves and in the middle of June. Also there's a
noticeable
lack of any decorating sense whatsoever.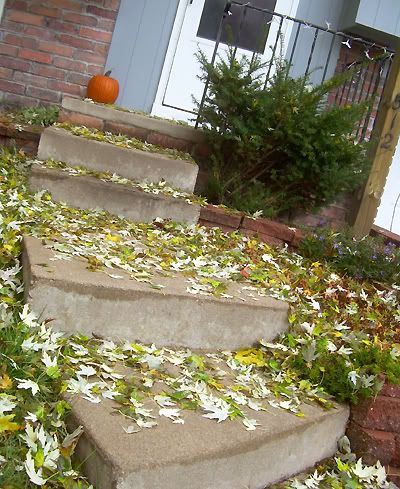 But if you thought the front was bad, you should have seen the back. Our two trees that were hanging in there, thanks to the storm, finally called it a season and dumped 85% or so all over the yard.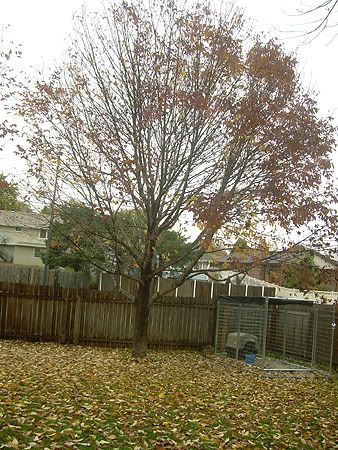 Poor Essie has a little carpet to run around on now. I think we may have lost a few toys out there as well and may never see them again.
And of course it's still raining cats, dogs and golden marmosets so it'll be a while before we can wrangle all those leaves into some sort of containment unit.
How's fall moving out where you are? Is it a nice gentle shower of the occasional foliage or are you drowning in a biblical flood of plant matter?
Anyone have a secret recipe for what to do with three trees worth of leaves? Maybe bake them with a bit of salt for an hour?