Some days I put down the candid camera and pick up the more "okay now stand like this and close one eye while jumping in the air" camera (which are actually the same camera I was just using one of those mete-fours.)
I want cute pictures of Essie as she comes to experience each holiday while still maintaining that puppy enthusiasm to please us as much as possible before the jaded "I hate you so much and can't believe your making me do this looks start to show up." So this weekend I picked up the pumpkin our realtor gave us, my camera and trundled Es out to the backyard.
At first I was a bit worried I couldn't get her to calm down enough to sit anywhere near the pumpkin.
Luckily for our little semi-vegetarian that was not an issue.
Mm, pumpkin stems. Just as tasty as the weeds I pull out of the garden when no one is looking.
After a bit I tried to get her attention away from the chewing and biting so maybe I could get a picture of her face.
What do you want mom?
Oh fairy godmother can you turn my pumpkin into an even bigger pumpkin so I can eat it?
After getting the pumpkin pictures down it was now onto tackle an even more extreme
photoshoot
, a black lab puppy in a costume.
As Essie is named after a literary witch it seemed rather fitting that she go as one this year.
We had about 5 seconds before the hat was pulled, twisted off and lying on the ground while the puppy licked our faces. It's quite amazing just how flexible a lab puppy really is. She could put some
octopi
to shame for the tiny places and weird body
distortions
she can pull off.
Realizing the hat was a no go, I thought I'd try the little cape that came with it instead.
The wind was cooperating quite nicely as the cape billowed around her giving quite a dramatic effect for a puppy hoping that she'll get the
milkbone
the photographer is holding off camera.
Okay, so we got a pumpkin picture. We managed a hat one. And there's even a billowing cape one. But can we bring it all together?
Er . . . well if you've ever wondered what a witch looks like when she's chasing her tail that should give you an idea.
Once more, with feeling and half a box of milk bones.
SUCCESS! A Halloween picture worthy of a few avatars at least.
"Okay, I'm done playing dress up now. Time to play and wrestle, right?"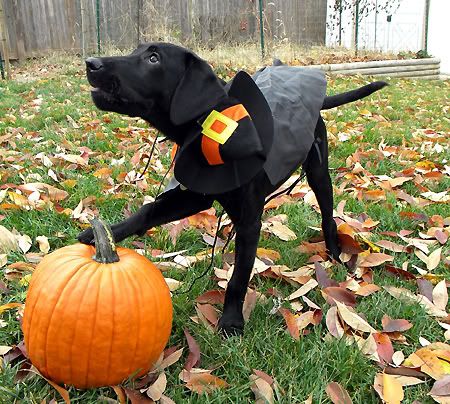 I'm not sure what we'll do with the costume for actual Halloween, maybe skip the hat and just put the cloak on her (she didn't mind that part at all).
Anyone with pets, do you have a costume all picked out for your little ones or are they going to go naked for the festivities?
The nice thing about taking silly pictures of a dog when they're little, when she's older she'll only feel ashamed of them if she eats them and gets caught.