I know you're just
dying
to know how our Halloween class is going.
There's been a lot of blood, sweat and tears. Well a lot of
blood
anyways.
Okay I'll stop, I'll stop. He he he. It's been an interesting time in Halloween Prop class 101. My husband and I may have been a bit too unambitious in choosing our projects.
We thought since there were two of us sharing a house and all each of us taking on one so we could share would be just fine. Except I can only stall for so long on my tombstone.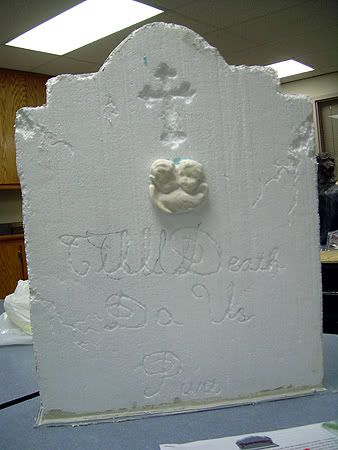 As you can see I already have a stand attached, an
epitaph
chiseled
, some weathering on the sides and cracks and a pair of incredibly creepy cherubs staring down at me while I work on it all (WHAT DO YOU WANT FROM ME?).
All I accomplished last class was the attachment of the
plexiglas
base. I was so bored I started to really weather the sides of my stone leaving quite a little
styrofoam
mess.
I can't wait to be able to finally paint this sucker. But after that I'll be at quite a loss for what to eat up my time for the last 3 classes. (I'm seriously thinking about bringing in some of my paintings to keep me busy)
There's also a rather funny learning curve going on in the class. Due to my extracurricular activities I have some rather wild ideas on how to paint my stone involving a lot of layers, sponging and even the liberal use of brown.
While sanding down the
plexiglas
edge I asked my instructor if he'd ever used brown on any of his stones. The look of abject horror was palpable as I fear visions of a chocolate brown tombstone floated through his head.
He asked just what I meant by brown and once again words failed me as I wanted to explain how I wanted to add some depth to the stone and create more of a water stain look using the brown underneath some grays and blacks.
Instead I think I mumbled something about pie and sat down watching my husband play with his project. I have these wild color ideas stored in my brain but I have no luck getting it out of my mouth. And that's why I'll never teach.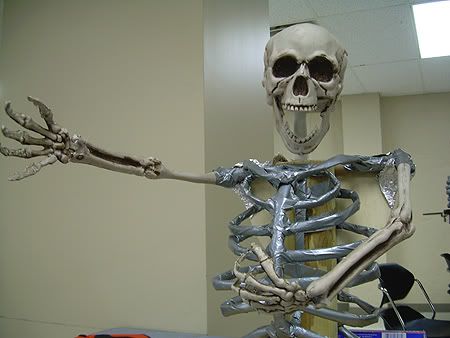 Am I crazy or does it not look like the Skeleton is cradling a small animal while trying to fend off a side tackle from the Zombie Defensive end?
My hubby's been rather ambitious with his project going so far as to add a spine to the back and even getting some balsa wood to make shoulder blades. I kept picking on him saying it looked like his ground breaker had wings and now he has the wild idea to actually put wings on the sucker.
Well I couldn't let him keep one upping me so I had my own cool idea to do while he rolled newspaper.
When they handed out the skull and arms for the ground breaker there was also a set of legs in the bag that weren't needed for the project. I played with the legs, making them do a little dance or stand on their own when an idea struck.
Fireplace, fake fire, charred dismembered bones!
So taking a little acrylic, with people watching, I rubbed a bit of black all over one leg bone and I have to say it really looks like this skeleton went through a fire.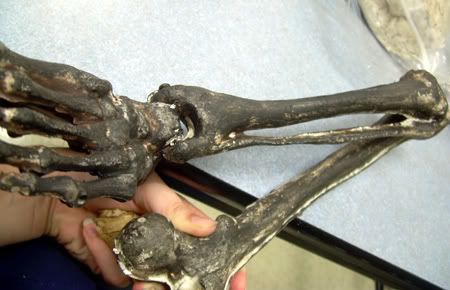 It's incredibly easy to do, and if anyone wants some tips or tricks I'll be glad to share. All you need is a bit of black acrylic and a paper towel.
The class has been a lot of fun, even if it means we get to spend about 2 hours at home with the puppy before we have to head off to class or go to sleep. The only hard part sometimes is trying to explain to other people this strange thing we've gotten ourselves into.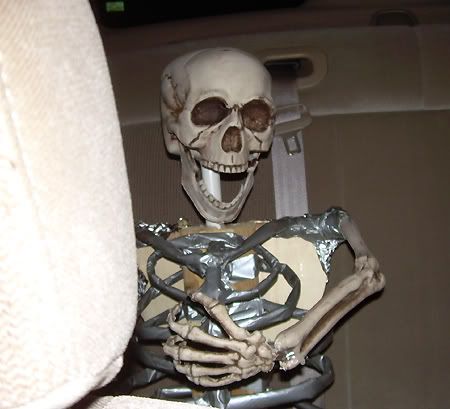 I hope we never get pulled over and have to explain why there's a jabbering skeleton sitting in the backseat.
Now that it's finally October has anyone who's not such a huge Halloween freak started to put up any decorations?
What are some of your favorite Halloween decorations? Are you more of a
Gothic
black and white
tombstone
graveyard type or a bright flashy light up extravaganza type?