Exactly 355 days ago today I was sitting in my kitchen, leaning my head while my good friends tried to turn my hair into something a bit more
manageable
and pinning a couple pieces of tulle to my head.
Ah weddings, the only time when you can wear some of the wildest things in your hair and no one bats an eye (though you do get some rather entertaining looks if you have to suddenly run to the store for extra bobby pins).
It's been a long time since I put much thought into just what the hell I'm going to do with my $200 dress. The veil has
received
nothing short of a curt e-mail to close friends asking if they'd need it for anything.
Then my husband got an idea.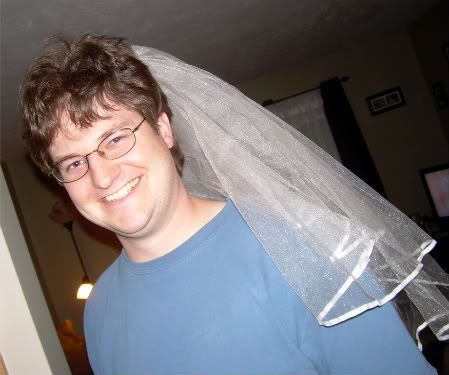 Bye bye couple of yards that adorned my head for a day. It was nice knowing you and all but it's time to go.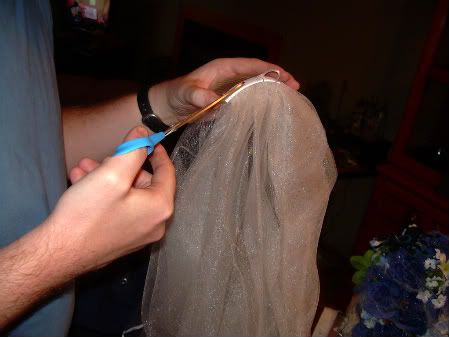 It looks rather shimmery eh? Like fairy spun gossamer floating on a river. Or a couple yards of tulle. Take your pick.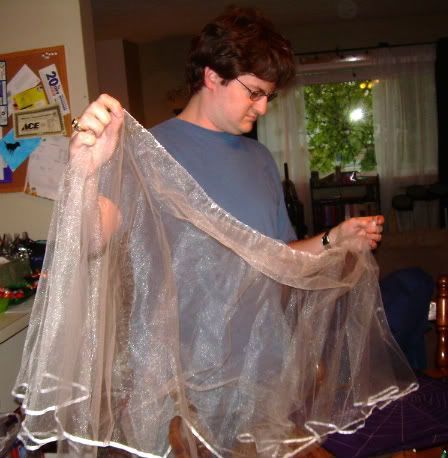 The first cut is the deepest, because it's easy to lose your grip when cutting with dull scissors.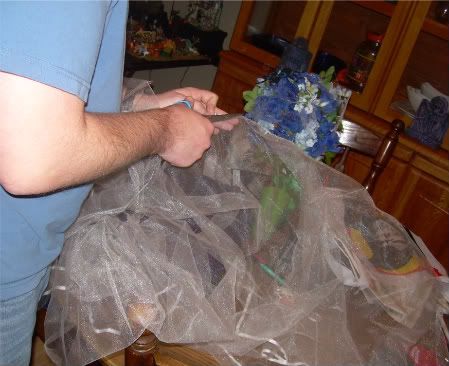 My beloved has been ripped in twain and lies jagged all over the kitchen table. Also the veil is now in a couple pieces.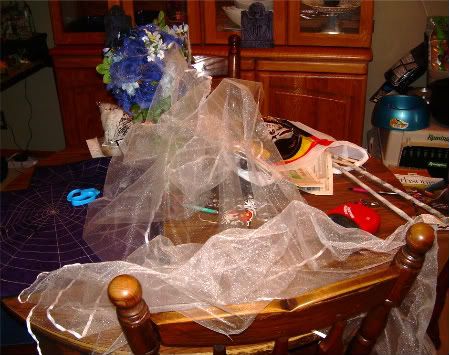 And just what was the couple of pieces of tulle going to? Why a Halloween prop of course (like you really had to ask, silly person).
Last week my husband decided that his little
ground breaker
should really be more of a ground demon and using duct tape, newspaper and dowels created some awesome wings for him. But then came the big question, just what do you put on the wings to give them some grip for the latex?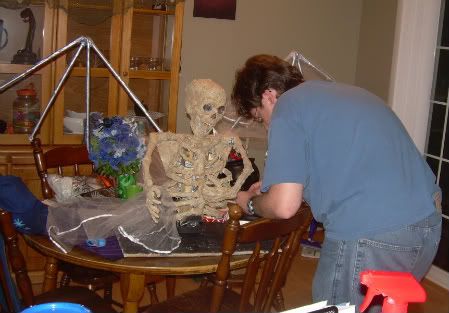 I think you know where this is going.
He still needs some latex on the wings and then a nice deep red stain but how cool is Mr. Demon (who we now call Crowley thanks to Good Omens)?
And there's something almost poetic in that we took pieces from our Halloween wedding and used it to create our own Halloween props to use for the rest of our lives.
For those of you that did have a veil what did you do with it after the wedding? Anyone had any good ideas for what to do with a wedding dress?